It seems none of the authors of this mod know Chinese or Japanese. As a Chinese, I hardly recognized those "Chinese characters" on the cover picture of this mod are "UNIQUE HISTORICAL ARMY SKINS", only think it is a sequence of meaningless characters.
What's more, it's quite funny that you have the Chinese units got "僧格仁欽,蒙古左旗". "僧格仁欽" is the name of an actor born in 1964! Or you just want to use "僧格林沁"(Sengge Rinchen)? Though Sengge Rinchen is a 19th century figure which I think is also not suitable for a unit skin. Also, I cannot find any source of "蒙古左旗"(Mongol Left Banner). Yes, "Banner" is used in Mongol region, however, it seems there is nothing called "Mongol Left Banner".
Of the Japanese unit, to my knowledge, banner with "厭離穢土欣求淨土" is never used as a banner on soldiers' back. Banners used on soldiers' back are called "指物"(Sashimono), you better find someone knows Chinese or Japanese to make more research.
Plagiarists!!!Why did you stole models from my mod(Ta tsing Empire,Ming Empire) without my consent??
by the way, I can't use DISCORD,I don't accept this behavior, please delete my models!!!
you stole models from GwentMaster's mod "Units Historical Appearance(Support Multiplayer)"
now stole models from my mod!!!I'm angry!!!I'm angryI'm angry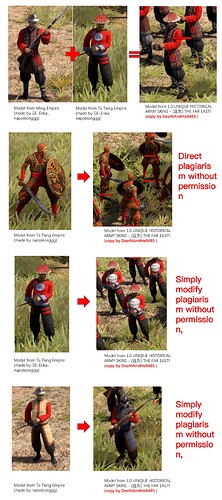 果然是抄袭的,唉……还抄得不明不白,都不知道哪门子historical了