I can't even start the Anniversary Event because the Day 1 challenge is blocked. Hope they will fix this soon…
Same here…
Cant close that window and therefore cant click anything in the background / menue.
Game is still running in the background, not frozen or anything.
Here is a pic:
Zwischenablage01|690x388
Same with you.Can not start new games.
Hi @everyone!
The issue of the final challenge reward window not clearing is already being tracked by our team. For this issue we may be able to provide support on an individual basis. If this issue is still occurring, please send me a direct message with your User ID.
The ID is the list of numbers on your user folder in C:\Users\<user>\Games\Age of Empires 3 DE
Thanks!
@ElRangerBlanco the issue you previously reported of the locked Day 1 Challenge is being tracked as well. The event currently requires the Xbox Live Sign-In to be completed first to access the subsequent Daily Challenges. The team has recognised this is not how previous event challenges were set up. I apologise if this is a significant barrier for any event participants.
@Breadalus So what do you mean of being tracked if it's a mandatory requirement now?
Can we expect the challenges to go back as they used to be?
Sorry but I don't wanna log in using my Xbox Live account in the game. I just wanna play and complete the challenges.
Please bring it back as an optional challenge, not a mandatory one.
Basically you are forcing people to log in with Xbox account. Not fair. That means this would be my last event.
Hey @wgj997227, thanks for that! Apologies for the lack of warning on the process, but we've reset that challenge & reward for you. You should now be able to complete the challenge and earn the skins without any issues.

Please let me know how it goes!
@ElRangerBlanco currently this is unintended behaviour. When the next update or patch is released the issue will be amended. So yes, you can expect the challenges to go back as they used to be after the next update.
I apologise that the Xbox Live sign-in requirement is a significant restriction for you to participate in the event.
I have asked our team if it would be possible for us to bypass the sign-in specifically for your account. Unfortunate this is not possible; as it stands, the Day 1 Challenge will only be unlocked by an Xbox Live sign-in. You will be able to sign back out immediately and this will not affect the collection of other rewards or event items.
I hope that answers all your questions!

@Breadalus Oh I see. I think I'll skip this event for now. The reason I want to bypass the login part is because I don't want to experience any other issue caused by logging in. I heard that other users were having issues because of that. My game is running as it should so I prefer that instead of experiencing any other issue.
It's great to know we'll get the optional log-in again as we did have in past events.
And yes, that answers all my questions. Thank you so much!
Hi @wgj997227. We reset the challenge and reward item at the time of my last message. Is the account you are logged into also logged in on another machine?
[update]
We've reset this challenge and reward for you again. If you could please try again to complete the challenge but this time wait maybe 30 seconds on the item reward screen before attempting to close the window - that will hopefully solve this issue for you. If it doesn't, then we can try a more trivial process. Sorry again for this issue.
Hey, I had them unlocked, but at the end of the event they have been automatically blocked again, I had one of the new skins equipped, while another was blocked, I equipped the standard one and the one I also had equipped was blocked.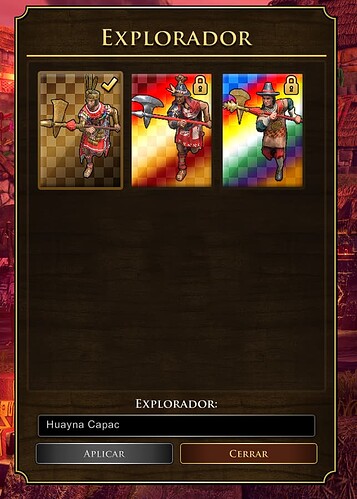 Hi @zlOverPainAL, we should be able to correct this for you if you can provide your user ID number. You can send that to me here or in a direct message. This will be the list of numbers on your user folder in C:\Users\<user>\Games\Age of Empires 3 DE.
Was the final challenge (to unlock the Explorer Skins) also reset for you?
@Breadalus Hi! thank you for answering me, I am writing you in a private message.
I wait 30 seconds. It works. Thanks!
Hooray!


Thank you for your patience while we resolved this issue!