GAME INFORMATION
GAME BUILD

#:

100.12.24632.0
GAME PLATFORM: Steam
OPERATING SYSTEM: Windows 10
ISSUE EXPERIENCED
AI players are extremely ineffective at gathering treasures on the map, often misjudging the strength of treasure guardians or becoming "indecisive" after engaging a treasure, either leaving the treasure entirely or re-engaging over and over again until their hero unit dies.
The current logic for engaging treasures is in fact so bad, I would argue it is detrimental for the AI to attempt gathering treasures at all. It would be better if their treasure-gathering was disabled entirely, to prevent them from continually suiciding their starting units.
FREQUENCY OF ISSUE
75% of the time / matches I play (VERY FREQUENTLY)
REPRODUCTION STEPS
Here's the steps to reproduce the issue:
Play with AI players on any map with treasures in it. Best observed on AI players with multiple starting units, such as Spain / Queen Isabella.
Observe them suiciding their starting units to treasure guardians. Best done by watching the recorded game back afterwards.
EXPECTED RESULT
I would expect either a much smarter logic for engaging treasures, or at least remove the AI's ability to gather treasure entirely — to improve the AI's general performance in games.
IMAGE
AI giving up on treasure mid-fight instead of finishing it: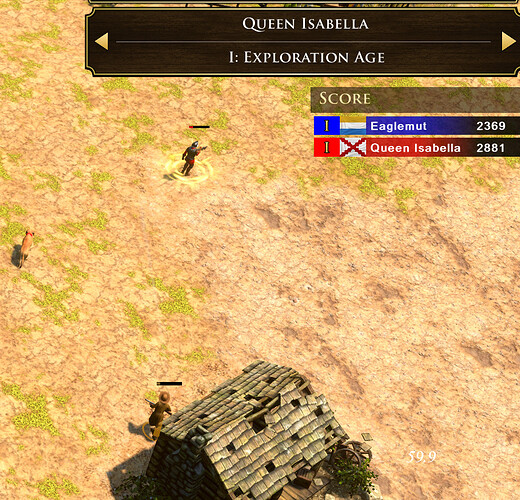 AI engaging a 3-cougar treasure with only 10% hitpoints left on Explorer (obvious suicide):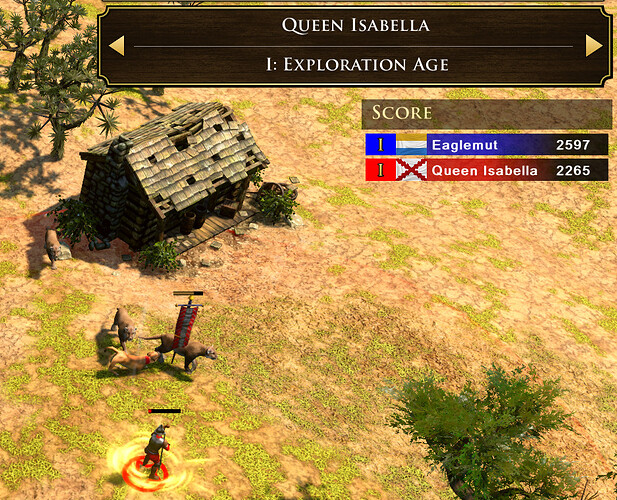 GAME FILES (SAVE / RECORDING)