I know, as you heard it, on steam for 3 days.
Let all your friends know!
No se como funciona muy bien eso, acaso el juego una vez descargado una vez pasen esos 3 días lo sacaran de tu biblioteca o como? perdon se poco de eso (post me compre el juego hace años xd solo pregunto eso)
Ummm, creo que se bloquea en tu biblioteca, pero los datos de partidas que hayas jugado quedan guardados para el futuro si lo compras.
I wonder why they didn't make an official announcement about it yet.
Three Days Grace are here for the people that try this.
Have you posted this in the Age 4 and 2 forums?
Might be able to convince a lot of Age 4 players to switch over or play both games.
I think that if I do that, they will delete them for Spam, but if you want, you can do it.
I don't see why it would be spam, it's relavent to the franchise. It would be best to get it up there ASAP. AoE4 players should be less elitist than AoE2 players so they might enjoy getting into AoE3.
I'm trying to make a post for this forum and apparently it won't let me post there until I'm done that.
At present, the number of online users on steam is very close, and it is no longer a dream to surpass aoe4. lol.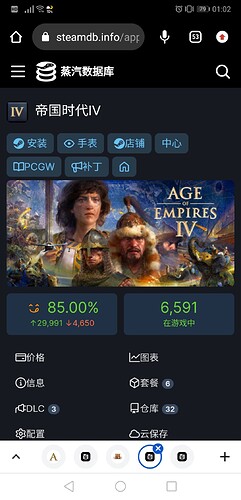 Later i make one, give me a moment
I put a post on there now.
I didn´t know that, thanks, perhaps now my friends from AoE II will join.