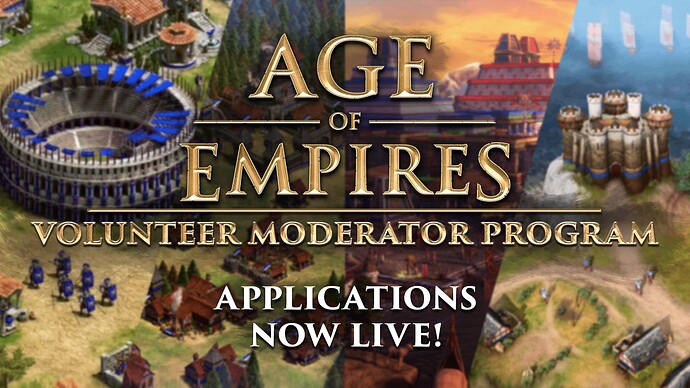 We're scouting for experienced members of the Age of Empires community to join our Volunteer Moderator Team!

Is Age of Empires a huge part of your life? Are you interested in sharing your expertise, chatting with others, and helping your fellow community members stay up-to-date about everything Age-related?
Volunteer Mods are key presences on active community platforms like Discord and the Age forums—and players know they can look to you for help as a constant presence in the community. If you love bringing Age fans together, you might be exactly who we're looking for!

NOTE: If you submitted your information to a previous call for volunteer mods applications previously, please resubmit your application again. This is a brand-new program and we're excited to hear from everyone!
Anyone interested in volunteering to be an Age Moderator must meet the following requirements—please note meeting all requirements below does not guarantee entry into the program:
18+ years old
Have an Age Insider account
NDA signed as part of the registration
Account is 3+ months old
No history of abuse or action taken against your account
For more information, check out our moderators page!