GAME INFORMATION

These details are CRITICAL; DO NOT skip them or your issue may not be reviewed.
GAME BUILD

#:

101.101.59165.0 8211018
GAME PLATFORM: Steam
OPERATING SYSTEM: Windows 10
ISSUE EXPERIENCED

DESCRIBE THE ISSUE IN DETAIL (below). LIMIT TO ONE BUG PER THREAD.
During battles like cavalry vs archers part of my cavalry often stay instead attacking.
I thought i missclick and make them "stay ground" or some pathing troubles or some patrol issue.
Today i have a case:
100% sure attack mode (checked during the battle)
Right click attack, no patrol, no "attack in move"
Lots of free space
Archers are sure in visibility range
And cavalry stops after some first kills.
Timestamp in replay 29:26
FREQUENCY OF ISSUE

How often does the issue occur? CHOSE ONE; DELETE THE REST!
50% of the time / matches I play (FREQUENTLY)
REPRODUCTION STEPS

List CLEAR and DETAILED STEPS we can take to reproduce the issue ourselves… Be descriptive!
Here's the steps to reproduce the issue:
Create big stack of archers (30+)
Create big stack of cavalry (20+)
Put cavalry into "stay ground" mode
Bit micro left-right.
Put cavalry into "attack" mode
Let knights attack archers
Part of cavalry will stop at some moment.
EXPECTED RESULT

What was SUPPOSED to happen if the bug you encountered were not present?
Cavalry must not stop while it is alive, it sees archers.
IMAGE

ALWAYS attach a PICTURE (.jpg, .png, .gif) or VIDEO (.mp4, YouTube link) that highlights the problem.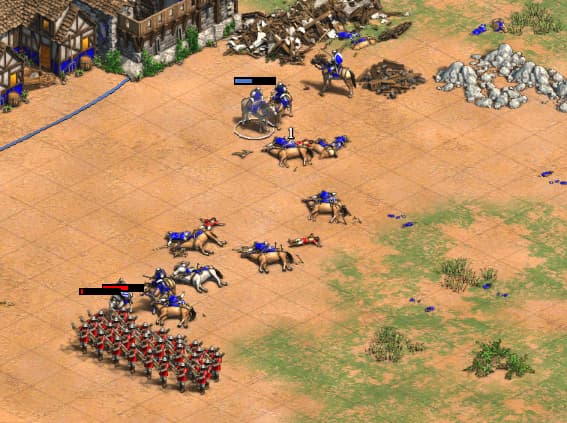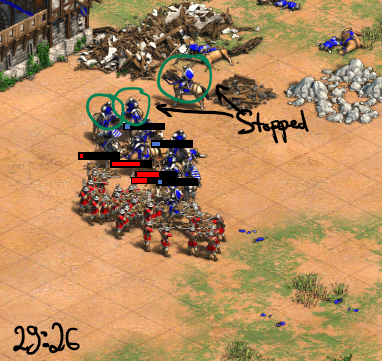 GAME FILES (SAVE / RECORDING)

Attach a SAVE GAME (.aoe2spgame) or GAME RECORDING (.aoe2record) of the match where you encountered the issue. Link it below if using an external file service.
MP Replay v101.101.59165.0 @2022.04.19 072413 (2).aoe2record (2.7 MB)