GAME INFORMATION
AOE2 DE ranked 1v1
**GAME BUILD

#101

.101.533480 7314341 ######
but this has been around for a long time
GAME PLATFORM: Steam
OPERATING SYSTEM: Windows 10
ISSUE EXPERIENCED
I'm playing a 1v1 I see gl hf (without the * prefix since in 1v1 opponent can see it anyway)
Opponent replys with "u2" so I know I'm not muted to him and he is not muted to me.
At the end of the game if I win he says gg and resign I say gg back but then check the dialog box (alt+t) and I see that he is muted.
Not sure if he got to receive my anser or not, not possible to talk about the game with him afteraward.
I have also noticed this happening a lot in team game as well.
FREQUENCY OF ISSUE
100% of the time
REPRODUCTION STEPS
Here's the steps to reproduce the issue:
queue up for 1v1 and get a mach
say glhf
get response from opponent
preferably win the game
opponent says gg and resign
Reply back with gg
Open dialog box and opponent is muted :c
EXPECTED RESULT
Opponent is not muted unless I manually did so.
IMAGE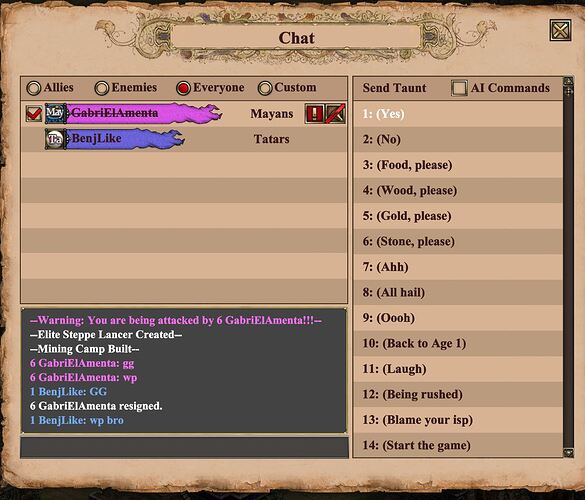 GAME FILES (SAVE / RECORDING)
This happened in this game just today:
MP Replay v101.101.53347.0 @2021.09.25 153538 (2).aoe2record (3.3 MB)