GAME INFORMATION
These details are CRITICAL; DO NOT skip them or your issue may not be reviewed.
GAME BUILD

#:

PUP
GAME PLATFORM: Steam
OPERATING SYSTEM: Windows 10
ISSUE EXPERIENCED
DESCRIBE THE ISSUE IN DETAIL (below). LIMIT TO ONE BUG PER THREAD.
This card for Hausa has a description that does not match the effect (for palaces):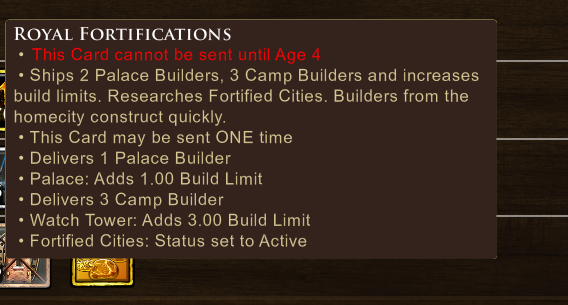 If there is a balance issue (like limiting the number of palaces to 7, like Ethiopia), I suggest removing the build limit increase from the card Gidan Sarkin (age 1 card), but correcting Royal Fortifications. Increasing palace limit while on Age 1 is pointless anyway.
FREQUENCY OF ISSUE
How often does the issue occur? CHOSE ONE; DELETE THE REST!
100% of the time / matches I play (ALWAYS)