GAME INFORMATION

These details are CRITICAL; DO NOT skip them or your issue may not be reviewed.
GAME BUILD

#:

v100-14-43676-0
GAME PLATFORM: Steam
OPERATING SYSTEM: Windows (latest)
ISSUE EXPERIENCED

The Fencible card states that it makes musketeers stronger and cheaper while giing them range. The card nerfs their attack by 20% however, contrary to the text description. Is it to compensate for redcoat ? What about the interaction between those two ? It would result in an effectively weaker musketeer
FREQUENCY OF ISSUE

How often does the issue occur? CHOSE ONE; DELETE THE REST!
100% of the time / matches I play (ALWAYS)
REPRODUCTION STEPS
Here's the steps to reproduce the issue:
Pick either France or Britain
Go to the Industrial Age and Revolt to Canada
Send the "Fencibles" Card (Age IV card in revolt deck)
EXPECTED RESULT

What was SUPPOSED to happen if the bug you encountered were not present?
Musketeers should be stronger and cheaper, and get +2 range
Instead, Musketeers are cheaper, weaker and get +2 range.
IMAGE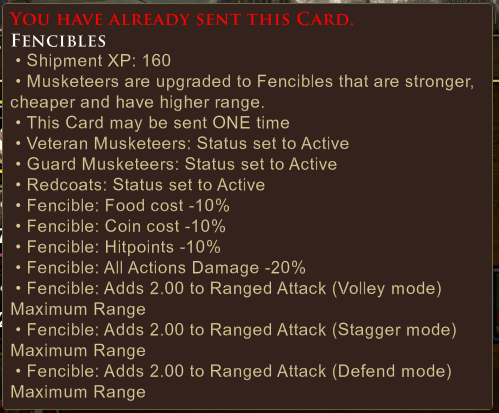 GAME FILES (SAVE / RECORDING)