GAME INFORMATION
These details are CRITICAL; DO NOT skip them or your issue may not be reviewed.
GAME BUILD

#:

160787
GAME PLATFORM: Steam
OPERATING SYSTEM: Windows 10
ISSUE EXPERIENCED
DESCRIBE THE ISSUE IN DETAIL (below). LIMIT TO ONE BUG PER THREAD.
I was able to edit colors a few weeks ago, but it's no longer possible. I can't click on any of those buttons or sliders. Are others facing this issue?
I have no mods and have never had one.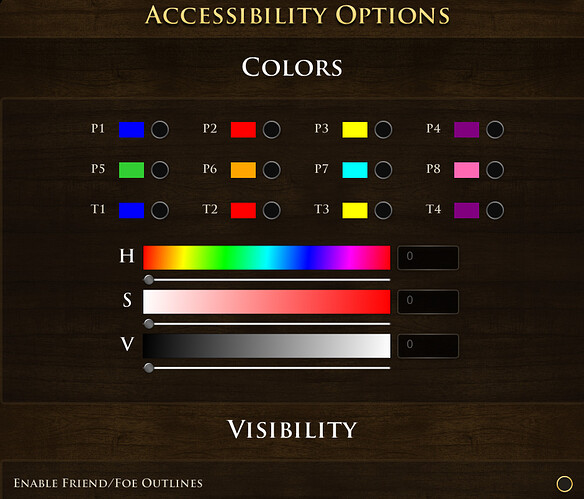 I can click on the ENABLE FRIEND/FOE OUTLINES button. It's just the COLORS subpanel that is affected. I can click on and interact with everything in the VISIBILITY subpanel and below it.
I have verified integrity of game files with Steam, but I still have this issue. I still have it after the new update that came out today (or maybe it was yesterday, but it's very new).
FREQUENCY OF ISSUE
How often does the issue occur? CHOSE ONE; DELETE THE REST!
100% of the time / matches I play (ALWAYS)
REPRODUCTION STEPS
List CLEAR and DETAILED STEPS we can take to reproduce the issue ourselves… Be descriptive!
Here's the steps to reproduce the issue:
Open Options.
Click on Accessibility.
You will see the panel I reported about above.
EXPECTED RESULT
What was SUPPOSED to happen if the bug you encountered were not present?
I think I should've been able to click on the sliders or buttons and edit the colors.
IMAGE
ALWAYS attach a PICTURE (.jpg, .png, .gif) or VIDEO (.mp4, YouTube link) that highlights the problem.
Already did in the bug report. But, I will repeat the image here: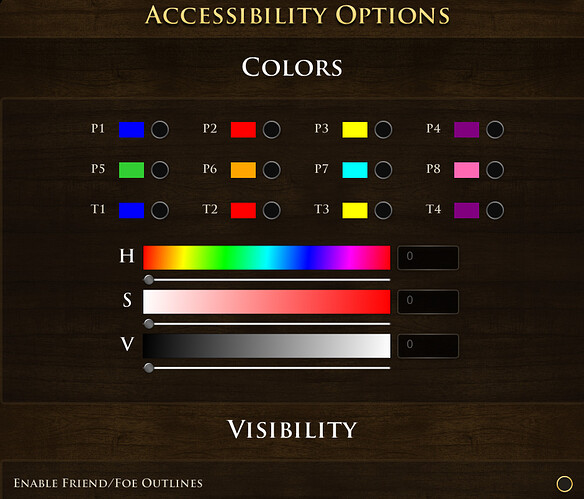 GAME FILES (SAVE / RECORDING)
Attach a SAVE GAME (.aoe3Ysav) or GAME RECORDING (.aoe3Yrec) of the match where you encountered the issue. Link it below if using an external file service.
It is not a problem I encounter through an active game. I'm simply unable to edit my colors. Not in singleplayer nor in online multiplayer. I don't mind sending my entire game directory if I could.