GAME INFORMATION
These details are CRITICAL; DO NOT skip them or your issue may not be reviewed.
GAME BUILD

#:



Either make the version copyable, always enter the current version in this template. I assume you need these as copy and paste's.
GAME PLATFORM: Steam
OPERATING SYSTEM: Windows 10
ISSUE EXPERIENCED
DESCRIBE THE ISSUE IN DETAIL (below). LIMIT TO ONE BUG PER THREAD.
Incredible case of Pathing failture
FREQUENCY OF ISSUE
How often does the issue occur? CHOSE ONE; DELETE THE REST!
25% of the time / matches I play (SOMETIMES)
REPRODUCTION STEPS
List CLEAR and DETAILED STEPS we can take to reproduce the issue ourselves… Be descriptive!
Here's the steps to reproduce the issue:
Watch the rec
Watch player 7 (grey, me) walling
Watch activity of the 2 walling villagers trying to wall the other entrance
EXPECTED RESULT
What was SUPPOSED to happen if the bug you encountered were not present?
Pathing working as expected from a game developed in 2019. The original Game had better pathing than this, as I don't recall this ever happening in my 4-5 years on Voobly
IMAGE
ALWAYS attach a PICTURE (.jpg, .png, .gif) or VIDEO (.mp4, YouTube link) that highlights the problem.
The Villagers always want to go this way, even tho it is walled, continues attempts to task them again leads to the same failure. This is a ridiculous pathing error.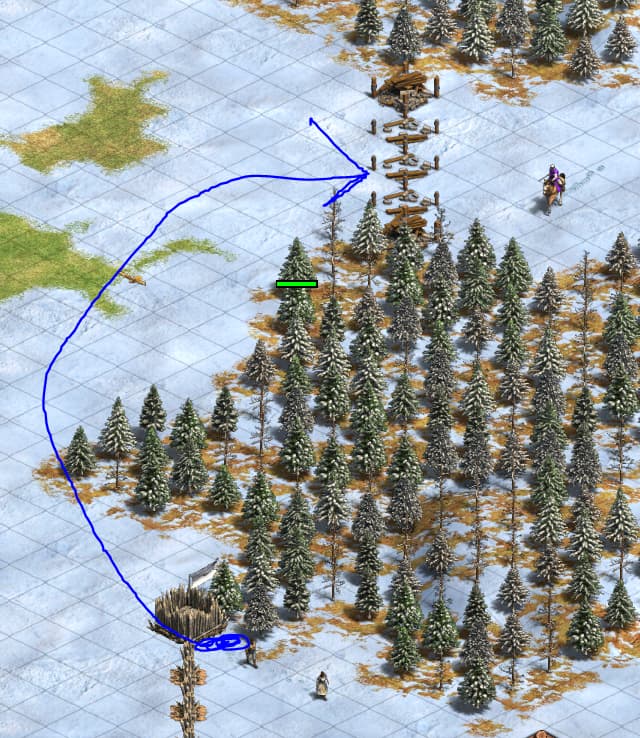 GAME FILES (SAVE / RECORDING)
Attach a SAVE GAME (.aoe2spgame) or GAME RECORDING (.aoe2record) of the match where you encountered the issue. Link it below if using an external file service.
The game didn't last long because someone lagged and another resigned because of the lag
MP Replay v101.101.56005.0 @2022.01.14 180031 (6).aoe2record (1.0 MB)