GAME INFORMATION
GAME BUILD

#:

100.13.12327.0
GAME PLATFORM: Steam
OPERATING SYSTEM: Windows 10
ISSUE EXPERIENCED
The Cuirassier treasure guardian is unable to damage other treasure guardians when converted by a player using special hero ability.
Internally, this is because its hand attack action is flagged to restrict its ability to deal damage to Enemy player-controlled units only and not neutral Gaia units. I guess changing the flag to GAIAEnemy would cause it to damage its allied Gaia units when not converted, so I'm not quite sure what the solution is here.
FREQUENCY OF ISSUE
100% of the time / matches I play (ALWAYS)
REPRODUCTION STEPS
Here's the steps to reproduce the issue:
Play Lakota on a map which spawns Cuirassier treasure guardian (such as Pyrenees)
Use your Warchief's special ability to convert a Cuirassier treasure guardian
Attempt to attack any treasure guardians with your converted Cuirassier
Witness no damage being dealt
EXPECTED RESULT
Converted Cuirassier guardian being able to deal damage to other guardians once converted.
IMAGE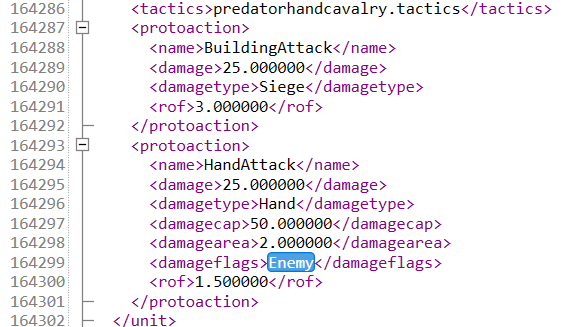 GAME FILES (SAVE / RECORDING)
converted cuir bug.age3Yrec (8.6 MB)
Additional note: the rec goes out-of-sync shortly afterwards.