GAME INFORMATION

These details are CRITICAL; DO NOT skip them or your issue may not be reviewed.
**GAME BUILD

#:

**Current
GAME PLATFORM: Steam
OPERATING SYSTEM: Windows 10
ISSUE EXPERIENCED

DESCRIBE THE ISSUE IN DETAIL (below). LIMIT TO ONE BUG PER THREAD.
So there is a treasure that reduces cost of infantry by 5%. when collected it actually reduces the cost listed for chinese units individually
But it doesnt reduce it for the banner armies
It also doesnt reduce it for the consulate armies
FREQUENCY OF ISSUE

How often does the issue occur? CHOSE ONE; DELETE THE REST!
100% of the time / matches I play (ALWAYS)
REPRODUCTION STEPS

List CLEAR and DETAILED STEPS we can take to reproduce the issue ourselves… Be descriptive!
Here's the steps to reproduce the issue:
Get the 5% reduction treasure
see the unit cost change
3.banner army cost doesnt change
EXPECTED RESULT

What was SUPPOSED to happen if the bug you encountered were not present?
cost should change
IMAGE

ALWAYS attach a PICTURE (.jpg, .png, .gif) or VIDEO (.mp4, YouTube link) that highlights the problem.
cost for arquebusier down from 85 to 81 (5%)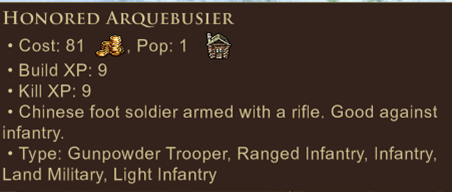 banner army cost still 85x3 instead of 81x3