GAME INFORMATION

These details are CRITICAL; DO NOT skip them or your issue may not be reviewed.
GAME BUILD

#:

V100.13.29985.0
GAME PLATFORM: Steam
OPERATING SYSTEM: Windows 11
ISSUE EXPERIENCED

DESCRIBE THE ISSUE IN DETAIL (below). LIMIT TO ONE BUG PER THREAD.
Having UI issue which makes all existing UI multicolored - photo shows issue. Makes everything very difficult to read. Happens in both AOEII and AOEIII. Have tried the following fixes:
Reinstall
Check for update
Restart
Change resolution
Change UI layout
FREQUENCY OF ISSUE

How often does the issue occur? CHOSE ONE; DELETE THE REST!
100% of the time / matches I play (ALWAYS)
REPRODUCTION STEPS
I am not aware of why this is happening, so I cannot reproduce.
EXPECTED RESULT
The UI is supposed to be clear and not rainbow colored.
IMAGE
Image attached.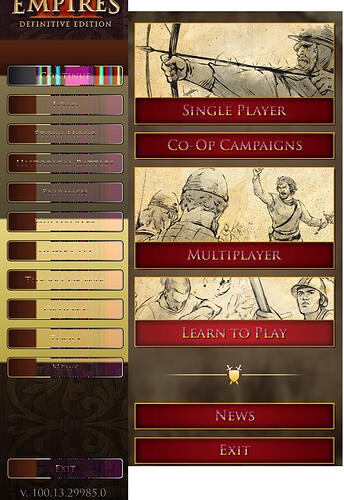 GAME FILES (SAVE / RECORDING)
No game file as it is a UI issue for the whole game interface.
*