I got the scarecrow statue from the latest event, but it's really hard to see it when playing at the zoom level I like to play at. Can't really tell it's even there at casual glance: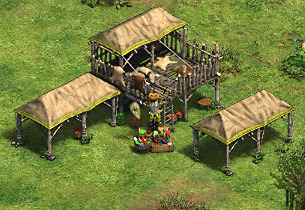 Even when zoomed all the way in (which I'd never want to do) you can barely make it out:
A lot of visual clutter/details where it is. I wonder if it should be brought to the front of the TC tile?, or convert one of the side tents to a wooden platform that it could stand on?