GAME INFORMATION
These details are CRITICAL; DO NOT skip them or your issue may not be reviewed.
GAME BUILD

#:

100.12.23511.0
GAME PLATFORM: Steam
OPERATING SYSTEM: Windows 10
ISSUE EXPERIENCED
DESCRIBE THE ISSUE IN DETAIL (below). LIMIT TO ONE BUG PER THREAD.
I was playing the Vengeance campaign mission when suddenly my game crashed. What I did is destroyed the first outpost to the northeast of your town center, and built a market. Not sure if the crash happened right when the market was built or not because I wasn't looking there. I received the following error below. My graphics drivers are up to date (literally did the NVIDIA update just yesterday), Windows is up to date, and so on. I had a crash a week or so ago and a support person told me to update my C++ redistributables by email, which I did, but obviously that did not fix the error since I incurred a crash again, although maybe this was just introduced in the newest update.
FREQUENCY OF ISSUE
How often does the issue occur? CHOSE ONE; DELETE THE REST!
25% of the time / matches I play (SOMETIMES)
(for the game in general, have not tried playing the campaign twice)
REPRODUCTION STEPS
List CLEAR and DETAILED STEPS we can take to reproduce the issue ourselves… Be descriptive!
Here's the steps to reproduce the issue:
Played Vengeance campaign
Destroyed first outpost
Built a market
(not sure if this was due to something specifically in the campaign or not). Log is attached below
EXPECTED RESULT
What was SUPPOSED to happen if the bug you encountered were not present?
No crash
IMAGE
ALWAYS attach a PICTURE (.jpg, .png, .gif) or VIDEO (.mp4, YouTube link) that highlights the problem.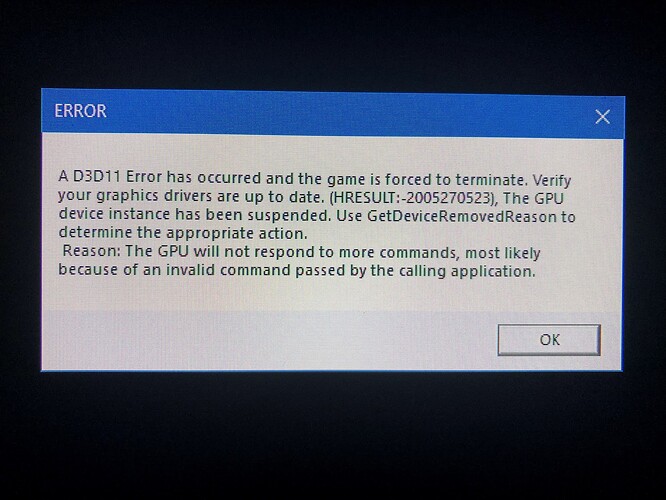 Age3Log.txt
(5.6 KB)
Age3PopcornLog.txt
(7.6 KB)
Age3SessionData.txt
(115 Bytes)
GAME FILES (SAVE / RECORDING)
Attach a SAVE GAME (.aoe3Ysav) or GAME RECORDING (.aoe3Yrec) of the match where you encountered the issue. Link it below if using an external file service.