My game also crashes after 1 or 2 seconds of freezing but I don't get any errors.
Have you tried uninstalling mods? if you have any
Frenquent crashes to desktop, without any message or with attached one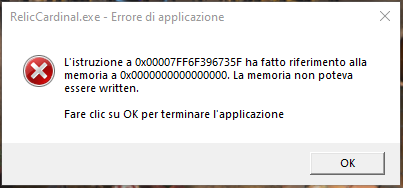 Looks like it crashed after player id 2 aged up to castle.
I think it is general with many inputs, it also happens with sacred site etc, there is something conflicting.
Same problem without any error.
I don't have mods.
My game crashed as well without any error message ranked 1 vs 1 match closes to desktop, lost rank points couldn't reconnect.
Game is crashing late in the game. Seems to do with texture loading, usually happens when I pan around in the game.
It's literally so bad that it happens almost every single game on GeForce Now. From what I understand, GeForce Now is like a clean install, so it's definitely not a driver issue. I deleted all mods and it still happens. Lowered all settings and it still happened as well.
my problem is the same no matter what i do the game crashes. i dropped from gold 2 to bronze 3.
I don't know if last maintenance was supposed to fix this but it didn't. My game just crashed.
Again, this is happening since last patch note 7.1.113.
Please, help us !
My game just crashed twice. I left now
I have the same problem, it happens randomly while playing, there is not' a correlation with what happens on the screen, crush and that's it, I thought they had solved, but this and' too frustrating.