GAME INFORMATION

These details are CRITICAL; DO NOT skip them or your issue may not be reviewed.
GAME BUILD

#:

######
GAME PLATFORM: Steam
OPERATING SYSTEM: Windows 10
ISSUE EXPERIENCED

DESCRIBE THE ISSUE IN DETAIL (below). LIMIT TO ONE BUG PER THREAD.
When there's a lot of action going on (150-300 units fighting) the game often crashes. I play a lot of FFA and long games, so it is happening a lot recently. I think it happens more often on european maps, and on XL maps, but can happen in any map and size. There's also a correlation between the extension of the game and the crash: the longer the game gets, the probablity of crashing increases. This is my pc build: CPU: AMD FX-8350 16GB RAM DDR3, GPU: GTX 1650. I play with low resolution and all graphics settings on low or disabled, with the exception of ultrazoom, that i consider necesary for tactical reasons.
FREQUENCY OF ISSUE

How often does the issue occur? CHOSE ONE; DELETE THE REST!
50% of the time / matches I play (FREQUENTLY)
REPRODUCTION STEPS

List CLEAR and DETAILED STEPS we can take to reproduce the issue ourselves… Be descriptive!
Here's the steps to reproduce the issue:
Build your city and army
Pick a fight with your full army against one or two other full armies
crash happens.
EXPECTED RESULT

What was SUPPOSED to happen if the bug you encountered were not present?
continue fighting
IMAGE

ALWAYS attach a PICTURE (.jpg, .png, .gif) or VIDEO (.mp4, YouTube link) that highlights the problem.
the game always crash before i can take a screenshot, but you get the idea.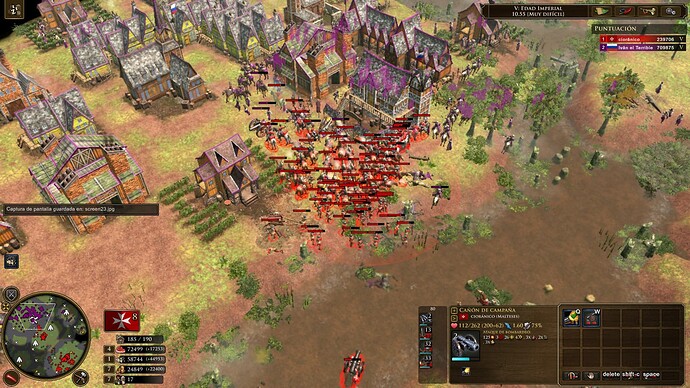 GAME FILES (SAVE / RECORDING)

Attach a SAVE GAME (.aoe3Ysav) or GAME RECORDING (.aoe3Yrec) of the match where you encountered the issue. Link it below if using an external file service.