GAME INFORMATION
GAME BUILD

#:

101.101.51737.0 7126076
GAME PLATFORM: Steam
OPERATING SYSTEM: Windows 10
ISSUE EXPERIENCED
DESCRIBE THE ISSUE IN DETAIL (below). LIMIT TO ONE BUG PER THREAD.
When hosting a lobby or joining one, and selecting a civ, very rarely, upon launching the game, you will instead be playing as a different civ. It is very infrequent, and has only happened twice to my recollection. Another time it gave me the Vietnamese instead of the Bohemians.
FREQUENCY OF ISSUE
Less than 25% of the time / matches I play (RARELY)
REPRODUCTION STEPS
List CLEAR and DETAILED STEPS we can take to reproduce the issue ourselves… Be descriptive!
Here's the steps to reproduce the issue:
Pick a civ in a lobby (Probably the Bohemians or Poles)
Launch game
See if you're unlocky
EXPECTED RESULT
What was SUPPOSED to happen if the bug you encountered were not present?
You would actually play as the civ you've selected.
IMAGE
ALWAYS attach a PICTURE (.jpg, .png, .gif) or VIDEO (.mp4, YouTube link) that highlights the problem.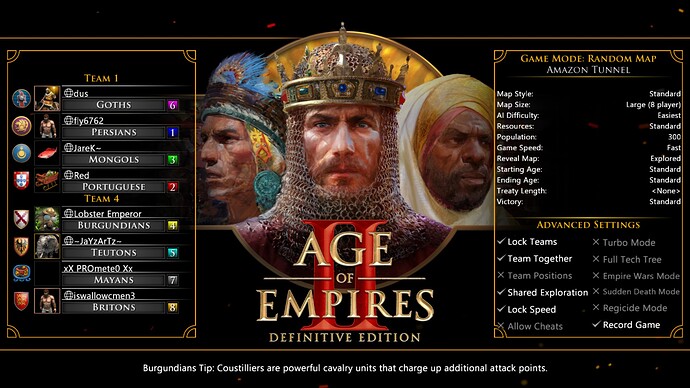 Here is me with the Burgundians, even though in this lobby I selected the Bohemians. This was from a lobby I hosted, as was the other time this happened.