MP Replay v101.101.50700.0 @2021.07.12 202952 (1).aoe2record (1.8 MB)
GAME INFORMATION
These details are CRITICAL; DO NOT skip them or your issue may not be reviewed.
GAME BUILD

#:

101.101.50700.0 7006804
GAME PLATFORM: Steam
OPERATING SYSTEM: Windows 10
ISSUE EXPERIENCED
DESCRIBE THE ISSUE IN DETAIL (below). LIMIT TO ONE BUG PER THREAD.
Shortly after my opponent and I reached castle age we had an "out of sync" message pop up. This was in a ranked game which I attached. Nothing specific appears to have happened in game to cause this.
Edit 1: I Reviewed my opponents profile and it could actually be an issue on their end. They appear to have quite a few matches without results. Of their last 10 games they have 1 loss, 4 wins, and 5 matches without results. See profile here: AoE2.net
FREQUENCY OF ISSUE
How often does the issue occur? CHOSE ONE; DELETE THE REST!
100% of the time / matches I play (ALWAYS)
I have only played one game on the newest patch
Edit 2: I played 4 or 5 games now with no issue. I no longer think it has anything to do with the patch and that timing was simply coincidental.
REPRODUCTION STEPS
List CLEAR and DETAILED STEPS we can take to reproduce the issue ourselves… Be descriptive!
Here's the steps to reproduce the issue:
Have both players advance to castle age and have one player attack the other's base with knights.
or
View replay provided
Edit 3
I have played a few more games without issues so I don't think these reproduction steps are too helpful but let me know if I can provide any info!
EXPECTED RESULT
What was SUPPOSED to happen if the bug you encountered were not present?
There would be no out of sync issue
IMAGE
ALWAYS attach a PICTURE (.jpg, .png, .gif) or VIDEO (.mp4, YouTube link) that highlights the problem.
The last moment before "out-of-sync":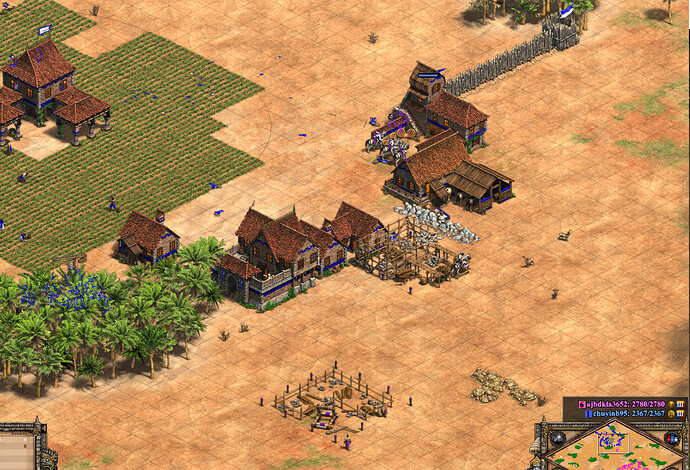 GAME FILES (SAVE / RECORDING)
Attach a SAVE GAME (.aoe2spgame) or GAME RECORDING (.aoe2record) of the match where you encountered the issue. Link it below if using an external file service.
(see post attachment)
*