Is there a way to see in xbox insider hub or somewhere else that my Steamaccount is added?
best regards
No, but if you would enter the link of that survey again using the same account it should say it's been completed and submitted. Like this picture below.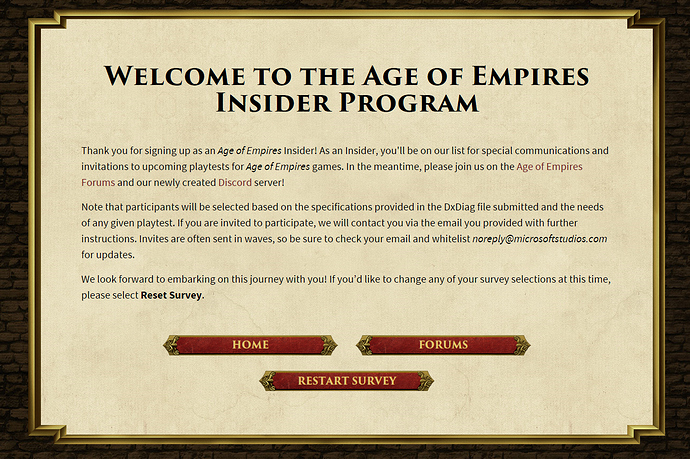 Unfortunately after clicking the link again it does not remember you have already completed the survey.
I would really like to see my insider status and link accounts on my website profile here: https://www.ageofempires.com/profile
Well, it does for me. When I click the link in the first e-mail of the invitation to take that survey. You are right regarding the Steam account connection, but that was part of the whole process.
Hmm. I have a habit of clearing my internet browser cache and that probably caused the survey to forget I previously completed it.
That must be it. So far I only got one e-mail from MS and 2FA validation e-mails with code from Steam when I logged in at their website from Edge the first times. Somewhere down the line the question came which e-mail address I wish to use for the beta news. There I decided to keep it to my outlook e-mail address and not my Gmail which I use for Steam.
Like I said before regarding GDPR. The two parties should notify clearly about connection of the accounts and also state which information is being shared and for what purpose, the way clients can undo and retrieve or even remove the stored information again. That's basically all to it.
Strange thing is though when I visit aoe com front page and enter my Gmail there again it says successfully signed up, watch your e-mail. The e-mail comes in and I can do a new survey again.
So something is at least strange about the whole process. It should say and send an e-mail with you have signed up already.
We'll be adding Steam and connection status and insider status to the profile page, but there is not currently a way to see this on the web site. We did implement a change in the flow in that if you submit the survey and connect your steam account, if it's successful you should get an email saying so. If not, you'll get an email saying your steam account info was not provided. We had a problem yesterday where Steam wasn't allowing logins for a while which caused problems. We've heard of a hand full of people having issues with Steam/Login, and we're investigating those but most are getting through fine. We'll continue to improve the process where we can though!
I'm having the same problem. I completed the survey and I don't want to reset it but I have no way of actually knowing if the connection to my Steam account was successful.
Hi @ReTuRnOfpRaCtIs, If you logged into your Steam account during the insider sign up process and did not receive an error then your insider account was successfully linked to Steam account. Currently there isn't a visual way to see that the connection has been established on your Age of Empires website profile, so you'll have to trust that it worked like the rest of us.
There is even a section for this in the account settings:



But I guess it isn't working for now.
They have to implement this in at least 4 backends, so it might take a while before it's ready.
Well, hopefully it worked. One reason I'm concerned is that I clicked a link to link it which meant that I signed into my Steam account through my internet browser rather than through the Steam app. As I normally sign in through the Steam app I had to go through security first to verify that it was me, using a code from an email that got sent to me. By the time I had done all that and got through on my browser I wondered if it worked. It's a pity that clicking the link couldn't just launch the Steam app so I could sign in how I usually do.
Hopefully it worked. Thanks.
That was normal behavior. I had the same regarding Steam Guard and verification the first time, but it worked fine. You can use the link in the e-mail to restart the survey if you want to be sure. I tested it again. This time it worked about the same, Steam asked is this you, and I also got a confirmation e-mail from noreply@microsoftstudios.com. Something they have added later at the finish of the process. I never received any e-mail that they couldn't link. So I think you are just fine, like me.
I haven't received an invite yet. I really hope I get one.
Is any one else getting this when they try to connect their steam account? it shows my actual steam username with profile picture but everytime i try to re do it i get same message of "there was aproblem loggin into Steam. Please try again"
Help please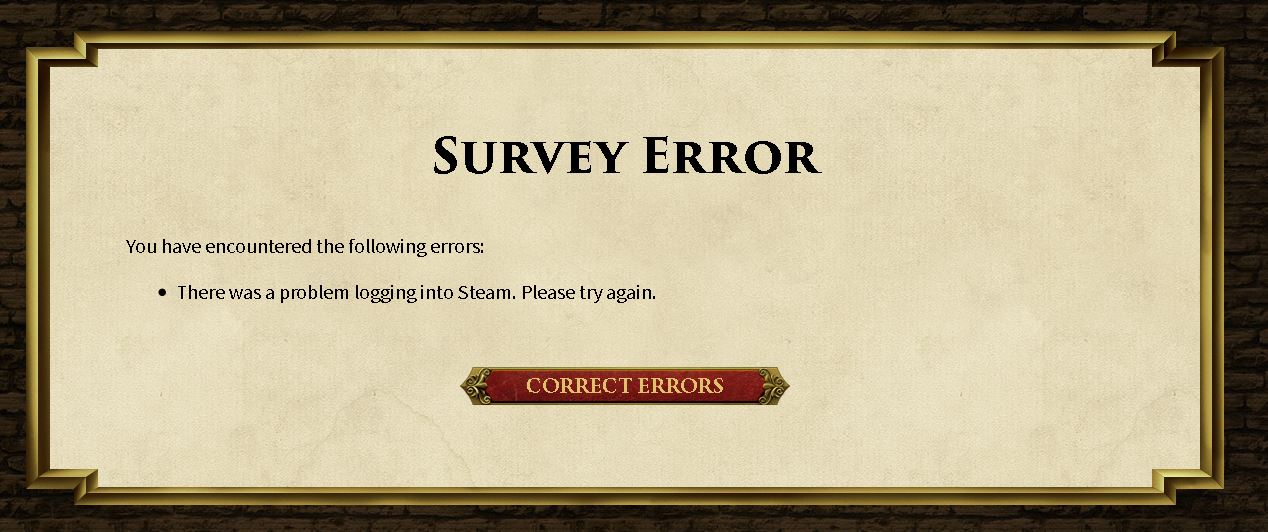 Welcome here. You will need to clear your cache, cookies and restart the browser, but if you have tried this a lot of times the advise is also to wait at least 25 hours because your IP might be blocked by Steam for a while due to these errors.
Here we go again guys, like old times when AOE DE Insiders came around, glad we got a nice moderator around here
Cheers!
I had the same problem, but this message wasn't correct. In fact, when I logged in on ageofempires.com and looked at my profile page, my Steam account was properly connected.
Perharps, you had the same issue. To acces your profile and verifi your Steam account conection, follow this link: https://www.ageofempires.com/profile
This is the expected status on your profile: