Most people know i mostly play ranked games, but sometimes i do check the lobby for some games. Mostly it is a very bad experience and i run right back to ranked (which is much more superior). The lobbies of DE are even an downgrade of the lobbies at Voobly in my opinion. Instead of just ranting on the lobbies and say people have to go to ranked (which i still do support), we can also look at some ideas to improve the lobby and makes it more useful.
1. Unranked elo
Let's start with the big elephant in the room: We can only see the ranked elo, but many players in the lobby dont (or very infrequently) play ranked games. If they have ranked elo, then there rating isnt accurate. So you can really balance teams based on the ranked elo for this reason.
At aoe2.net you can find the unranked elo too. So it looks like the game is already tracking an unranked elo. So let us show this elo too in the lobby. This is the best measure to determine the skill of the players before the match. So it can be used to create balanced teams.
It also mean you can have a better understanding of 'Noob' lobbies. Aoe2.net already show more stats about the open lobbies. I have seen very strange noob lobbies. I will give you an example: Someone has a 2.5k unranked elo rating and a winrate of 80%. This player was still making noob lobbies. Based on these stats he is clearly not a noob anymore. You cant reach 2.5k elo with a 80% while still being a noob. Since he didnt had an ranked rating, you couldnt see this info into the game itself. So people just join the room, and think it is a noob room.
People like to call them noob. I have seen multiple variants in the lobby. Noob, big noob, beginner noob, medium noob. I have no idea what they really meant, skill wise. I also think every players will have its own interpretation of such term. Having just a visible rating means that you can just for a specific rating. At Voobly you saw lobbies names like 13++ BF or 22++ Arabia. The expected skill level of all players was pretty much clear with such description.
Showing the unranked elo in the lobby will solve this issue as well. So the first suggestion is to simply show the unranked elo in the lobby. I would even suggest to rename it to lobby elo
Note: The same issues as with the Ranked TG ladders are issues for unranked team games.Curently the devs have to clean this mess before unranked elo becomes really useful. More about this issue: Analyses of the ratings - Spotting the issues and [BLOG] Age of Empires II: Definitive Edition — Updates to Ranked Team Game ELO Acquisition. I would suggest to just reset the unranked elo. With the recent change there is no inflation any more and the mess is cleaned after a reset, but that is a discussion for in these other threads.
2. Lobby browser - real time data
The lobby browser has some issues in my opinion. The current data isnt real time. You have to refresh the data manually by using a refresh button. For a game from 1999 i can see why this is done. But no in 2021? This seems like a pretty much outdated features. People expect to get real time info. We already had this in Voobly. If someone created a lobby, it was instantly visible. If someone joined a lobby? Then the number of players was instantly updated. There was no need for a refresh button to update everything. And even if you click on the refresh button, then you are still not seeing real time data. You can check this yourself by doing the following steps:
Join a lobby.
Leave the lobby
Refresh the lobby browser
Look for the lobby you just entered and left.
Sometimes you might still be visible in the lobby browser. This just proves that refresh button isnt even updating to the real time data. I consider this as a bug and made a bug report about this: Lobby browser data is out dated
It is possible to have a real life lobby. This is again proven by aoe2.net. You can see all the open lobbies at this site. It updates almost instantly. So if a third party site is able to have this feature, then it must be also possible in the game itself.
Note: This also needs to be true the spectate games tab into the game. That has the same issues as the lobby browser.
3. Lobby browser - lay out
The lay out of the lobby browser is terrible in my opinion (i also disliked HD layout, the layout of voobly was much more cleaner).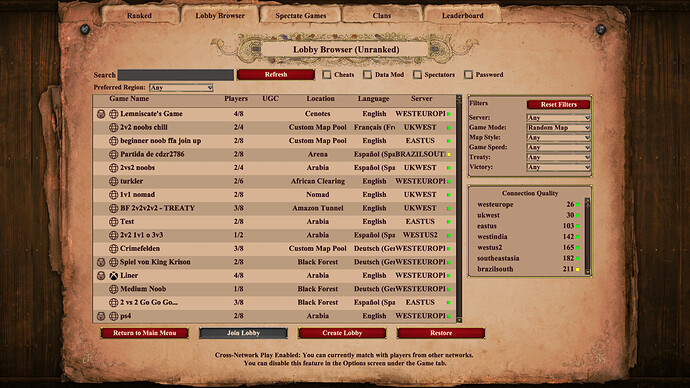 There is lots of empty space on the sides, while not really providing useful information.
I have no idea why i need to see a table with all pings constantly. This might can move to another place (behind some drop down menu?). Also the filters can be moved under some drop down menu (some of the filters are already at the top as check boxes). I would also suggest the ability to select multiple settings. For example: If i want to play RM or EW, then i have to filter first for RM and then for EW. I cant select both game modes at the same time. The same is for lobbies: I am fine with a lot of lobbies, as long as the ping is fine. Westeurope and ukwest are the best, but there are many other fine servers. I want to be able to select just some server. Not just one.
Moving the filter options and the connection quality to another spot, makes even more space to add some more columns to the lobby table. I would like to see the game mode in the table. The same is true for the unranked elo of the players currently in the lobby. Both are known by the game, thus it should be possible to add those to the lobby table. This will really help with finding a good lobby for your next game.
Note: This also needs to be true the spectate games tab into the game. That has the same issues as the lobby browser. The spectate games option also needs to show all games. Now it is just showing some games. Aoe2.net also shows ongoing games, but that list seems to more complete.
4. After the game - Go back to lobby
After the game you go to the main menu. It would be nice if you can go back to lobby first. If many people enjoyed the game, you can do a rematch or at least play with the same players again. Now everyone leave the game and just looks for another game. Maybe you end up with the some of the same players, but probably you play against other players. Yes you can invite the same players again to you lobby, but i like going back to the lobby (where you can decide if you want to stay or leave) better.
5. AFK host
Sometimes the host goes AFK, but it looks like this isnt really visible into the game. It is not always the host, sometimes another player as well. You dont really know when someone is AFK. At voobly this was visible. If you didnt do any thing at your PC for for example 1 minute, you was shown as AFK and everyone knows this. If it was the host, everyone else just left the room. If it was a player, then the host just kicked that person and another player could join. I would love to see something like that in the lobby browser as well.
This were my 5 ideas on how to improve the lobby, so it is a better place to play your games.