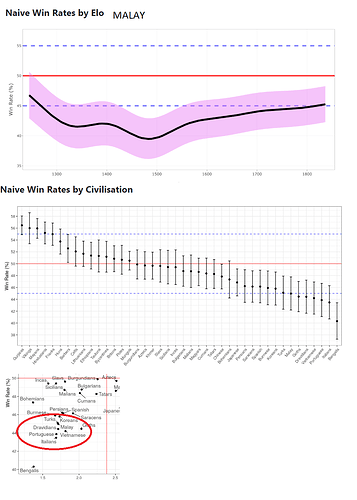 Firstly I don't think Malay are weak, imo they are similar to chinese in that their eco advantage is hard to leverage, and their unit selection in open maps are arguably bland (unlike for example a ratha being interesting to use even if its on a weak civ).
From stats even at higher elos (not necessarily the top) players are both struggling to use them (low winrate), as well as not wanting to use them (low play rate)
I prefer playing civs for some unique strategy or unit, and when it comes to malay i actually enjoy using their elephants as support units. I think we can guess most players either pick a civ for its strength/eases of use (franks/mayans) or fun playstyle(mongols). And I think malay struggles in both categories in open maps (the most popular maps)
Is there some way to make them more appealing without breaking them?
My instinct is to change Thalassocracy, as water/hybrid maps are in the extreme minority. eg civ bonus: docks automatically upgrade to harbours in the imperial age. And then give them another UT
Or potentially make karambits more viable on open maps without breaking them on closed maps? ie change the food to gold ratio. they are still extremely expensive for open maps, knights have a ratio of 0.8 food : gold. karambits are 1.7 food :gold