HOW SEND 5 UNIQUE CHURCH HOME CITY CARDS ???
Esp:
Creo que es un error de la descripción, en realidad lo que hay que hacer es enviar la tarjeta con 5 facciones diferentes.
Ejemplo: España, Italia, Alemania, Inglaterra y Malta.
La tarjeta:


Nota: no importa la cantidad de partidas.
Eng:
I think it's an error in the description, actually what you have to do is send the card with 5 different factions.
Example: Spain, Italy, Germany, England and Malta.
The card:


Note: the number of games does not matter.
---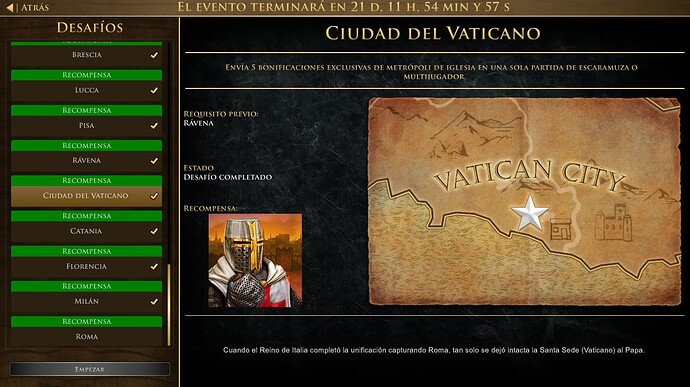 Ummm
Ayer estuve con este problema, al princio creí que se refería a las cartas procedentes de la "Iglesia" de tu metrópoli.
Como consejo a la Staff de AOE 3 DE les recomendaría que revisaran bien la traducción al español para evitar este tipo de problemas, incluso aún para abrir una partida guardada en lugar de que el texto diga "abrir" (Open) dice "Abierto"