GAME INFORMATION

These details are CRITICAL; DO NOT skip them or your issue may not be reviewed.
**GAME BUILD AOE2 DE
GAME PLATFORM: Steam
OPERATING SYSTEM: Windows 11
ISSUE EXPERIENCED

DESCRIBE THE ISSUE IN DETAIL (below). LIMIT TO ONE BUG PER THREAD.
I started a ranked game, realized i had no mods, finished game → checked mods if activated, they were (but i guess they where gone at that point), restarted game, mods where gone. Tried to install them and restart game like 5 times again and still didnt work. deinstalled game and reinstalled, tried again, still doesnt work.
FREQUENCY OF ISSUE
100% of the time / matches I play (ALWAYS)
Here's the steps to reproduce the issue:
Install mods
close game
restart game
mods deleted
EXPECTED RESULT

What was SUPPOSED to happen if the bug you encountered were not present?
mods would work, like they did before
IMAGE

ALWAYS attach a PICTURE (.jpg, .png, .gif) or VIDEO (.mp4, YouTube link) that highlights the problem.
after: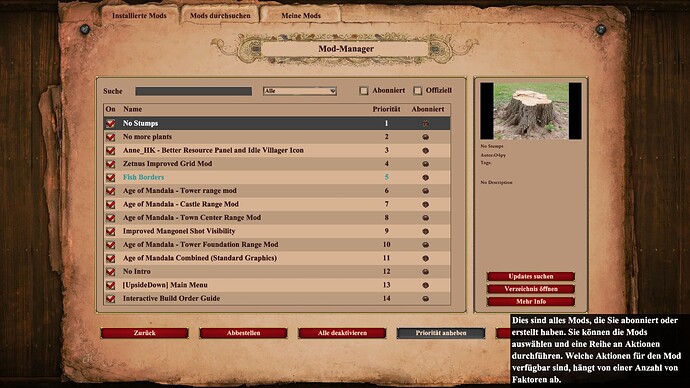 like ten mods missing