Multiplayer funtionality is currently unavailable, please check your Xbox Live account's Parental Control settings and try again.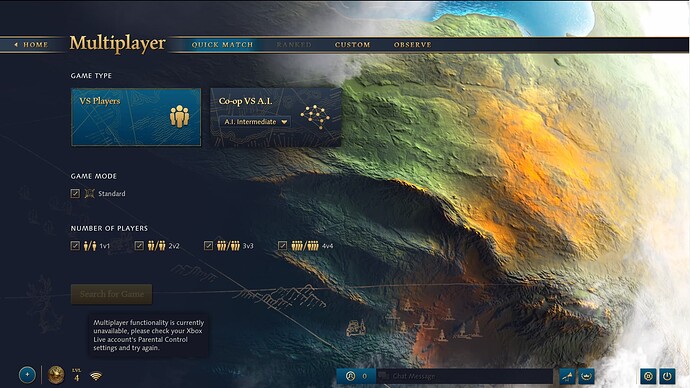 VS Players and Co-op VS A.I. is unavailable for me in AOE IV (Xbox Game Pass version).
I am not playing on an account that has parental controls enabled. As far as I've found, there even isn't such a thing as Xbox Live Parental Control settings, only Microsoft Family groups, which my Microsoft account is not a part of.
I can't go to Xbox account settings through Account with Xbox | Xbox, because it tells just me "The new Xbox app is replacing this experience". I haven't found any parental controls or privacy settings on the app itself.
Only through logging into my Microsoft account I finally managed to find the link to go to the actual Xbox account settings. (Sign in to your Microsoft account). And from there I could press Privacy settings. The aren't any parental settings in there, closest to it is the Microsoft family -option.
I suspect my multiplayer is disabled because in the account settings, on the "Privacy & online safety" tab, I have everything on "Block". Which of these options would I need to turn on to play online?