GAME INFORMATION
4v4 Multiplayer Random Map
GAME BUILD

#:

Age of Empires II Definitive Edition
GAME PLATFORM: Steam
OPERATING SYSTEM: Windows 10
ISSUE EXPERIENCED


I was playing 4v4 Multiplayer game on a random map( i think it was hideout) Anyway i started the game but to internet issues, the game started kinda late for me. Everyone was up to Castle Age and i was still stuck in Dark Age. So seeing it as a hopeless game since there was no way i could win, i clicked on 'Quit Current Game' and exited the application. Now after a few minutes I decided to give it another try. So i opened the game again and Viola, i couldnt believe what i saw
So if i lost a game and it was ranked my ranking must go down and the number of losses must increase by one right?
Well that didn't happen
Instead it showed that i WON the game and not lost, and the number of games i won was increased by 1. (Now you might say i might have been wrong but mind you i had 99 wins and i was desperately looking for my 100th one. And i had 124 losses. Imagine my surprise when i saw 100 games as won).
My rating was also increased and my ranking too, i didnt know how it could happen so i restarted the application. Even then it showed the same
FREQUENCY OF ISSUE
How often does the issue occur? CHOSE ONE; DELETE THE REST!
Less than 25% of the time / matches I play (RARELY)
REPRODUCTION STEPS
List CLEAR and DETAILED STEPS we can take to reproduce the issue ourselves… Be descriptive!
Here's the steps to reproduce the issue:
Join on a 4v4 random match
Click on Quit Current game
If there is a big, then instead of losing, it would show that you have won the match
EXPECTED RESULT
What was SUPPOSED to happen if the bug you encountered were not present?
I was supposed to lose my ranking and my rating
The stats should have been, 99 wins and 125 losses
IMAGE
ALWAYS attach a PICTURE (.jpg, .png, .gif) or VIDEO (.mp4, YouTube link) that highlights the problem.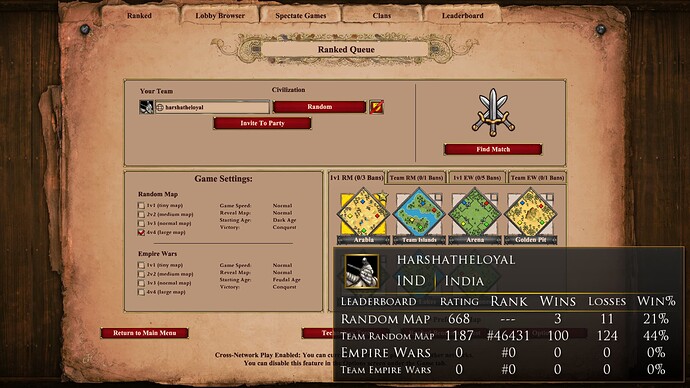 GAME FILES (SAVE / RECORDING)
Attach a SAVE GAME (.aoe2spgame) or GAME RECORDING (.aoe2record) of the match where you encountered the issue. Link it below if using an external file service.