GAME INFORMATION
**GAME BUILD

#:

101.101.44834.0.6148570
**GAME PLATFORM: Steam
OPERATING SYSTEM: Windows 10
ISSUE EXPERIENCED
GAME skirmish or multiplayer match(not tried ranked)
I'm creating a scenario mod in which I use standard technology for triggering my triggers with the condition"researching tech".
I made the cost of these technologies different, for example hand cart in my scenario costs' 5 wood, 5 stone and 10 food.
Nothing strange in this but… why the custom cost is shown outside of my scenario? in skirmish single game and even in multiplayer skirmish with friends??
I had to repair game in order to play properly since my hand cart tech costs different from enemies and the game crash.
FREQUENCY OF ISSUE
100%
REPRODUCTION STEPS
List CLEAR and DETAILED STEPS we can take to reproduce the issue ourselves… Be descriptive!
Here's the steps to reproduce the issue:
create a trigger
insert technology cost effect
create another trigger
insert inside trigger 2 CONDITION: RESEARCHING TECH
effect replace an object in the map with something else
set the new object (structure) to gaia to interrupt researching)
that's the basic thing that my scenario does with tech.
EXPECTED RESULT
What was SUPPOSED to happen if the bug you encountered were not present?
i'm supposed to not see my custom tech cost in normal scenarios!
IMAGE
ALWAYS attach a PICTURE (.jpg, .png, .gif) or VIDEO (.mp4, YouTube link) that highlights the problem.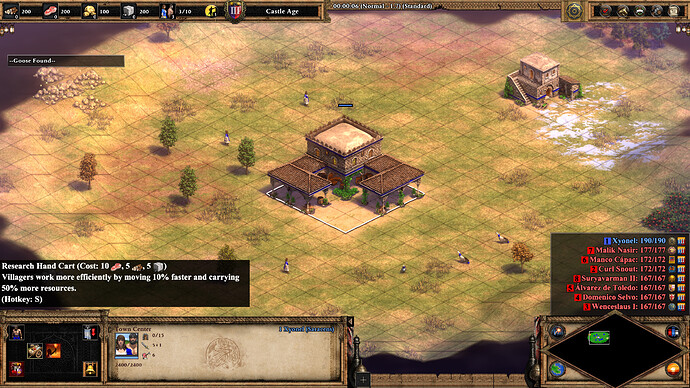 GAME FILES (SAVE / RECORDING)
Attach a SAVE GAME (.aoe2spgame) or GAME RECORDING (.aoe2record) of the match where you encountered the issue. Link it below if using an external file service.
since I'm new i can't upload attachments.
*