GAME BUILD

#:

Since the beginning
GAME PLATFORM: Steam
OPERATING SYSTEM: Windows 10
ISSUE EXPERIENCED

DESCRIBE THE ISSUE IN DETAIL (below). LIMIT TO ONE BUG PER THREAD.
When creating a trigger in the scenario editor there is a condition named "Objects in Area", when you pick "units" and object list "" it will assume any unit will do, that works, however, if you try to change it to "buildings", "heroes" or "others" it will go back to "units" if you select "" making it impossible (for example) to place a hero in an area and make that hero be any of the available ones.
FREQUENCY OF ISSUE

How often does the issue occur? CHOSE ONE; DELETE THE REST!
100% of the time / matches I play (ALWAYS)
REPRODUCTION STEPS

List CLEAR and DETAILED STEPS we can take to reproduce the issue ourselves… Be descriptive!
Here's the steps to reproduce the issue:
Open scenario editor
Go to triggers and create one
Set condition as "Objects in Area"
Set "Object List Type" to anything but units
It will reset to Units when saving or testing or even clicking somewhere else
EXPECTED RESULT

What was SUPPOSED to happen if the bug you encountered were not present?
Pick "heroes" and make that select all heros available, you can also try to do "Object Group" as "Hero", doesn't work
IMAGE

ALWAYS attach a PICTURE (.jpg, .png, .gif) or VIDEO (.mp4, YouTube link) that highlights the problem.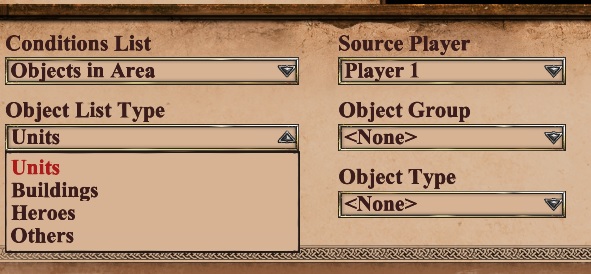 It will ALWAYS revert back to Units