GAME INFORMATION
These details are CRITICAL; DO NOT skip them or your issue may not be reviewed.
**GAME BUILD

#:Latest

GAME PLATFORM: Steam
OPERATING SYSTEM: Windows 10
ISSUE EXPERIENCED
I have been playing normally in my Vega 3 with Ryzen 3 2200U, but for some reason tpday my game doesn't open anymore and only appears an error related to update my graphic card driver which I already did
FREQUENCY OF ISSUE
Since today cmon
REPRODUCTION STEPS
List CLEAR and DETAILED STEPS we can take to reproduce the issue ourselves… Be descriptive!
Here's the steps to reproduce the issue:
Use the laptop previosuly described
Open the game normally
See what happens
EXPECTED RESULT
The game must open and be played normally
IMAGE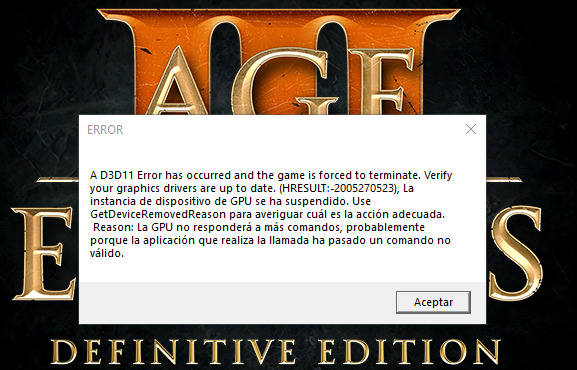 GAME FILES (SAVE / RECORDING)
Attach a SAVE GAME (.aoe3Ysav) or GAME RECORDING (.aoe3Yrec) of the match where you encountered the issue. Link it below if using an external file service.