Age of Empires IV is approaching the moment of truth.
Perhaps only a timely DLC (with a bit of balancing + bug squashing) could revive an RTS that generated so much hope and expectation after years of waiting. Yes, it can be revived. Let's be positive.
Even more than for AoE II and III, AoE IV DLCs must have a solid theme, because of the deep, asymmetric civ concept (regardless of how well this concept has been actualized so far). A compelling historical context.
So what DLCs make sense + are possible in reality? This poll is the result of a meticulous study and investigation, it's meant to be the only realistic DLC poll so far.
You can vote for up to 5 DLCs.
I'd like to thank each one of you for reading and participating.
Empires of India: Chola Empire & Vijaynagar
Crossroads of the World: Persians & Seljuk Empire
The Reconquista: Spanish vs the Moors
Battle of Empires: Byzantines + Italian States vs Ottoman Empire
Ends of the World: Japanese & Mali Empire
Distant Worlds: Spanish Empire vs Inca Empire
Southeast Kingdoms: Khmer & Dai Viet / Vietnamese
Clash of Titans & End of an Era: Roman Empire vs Ottoman Empire
Powers of Africa: Mali Empire & Ethiopians
The New World: Inca Empire & Aztec Empire
Fortress of Europe: Hungary + Bulgaria vs Ottoman Empire
Eternal Civilizations: Persians & Indians
The Northern Forces: Poland-Lithuania & the Norse
Clash of Giants: Ottoman Empire vs Persian Empire
The Crusades: Fatimid Dynasty, Seljuk Empire & Crusader States
Adventurers on Sea and Desert: Portugal & Mali Empire
Where the Sun Rises: Japanese & Goryeo / Korea
Superpower: Ottoman Empire vs all-Europe + Persia + Mamluks
Important investigation notes:
1- both Hungary and Bulgaria were included in "Fortress of Europe" as they were long considered some of the strongest armies in Europe in medieval centuries
2- "Dai Viet" was chosen to represent the Vietnamese states as it was the most long-lasting state (corrected)
3- "Spanish" is so referred in the Reconquista because the Spanish Kingdom was still under construction
4- "Mali Empire" also represents Songhai Empire and is referred as the other "End of the World", opposite Japan, because it's the westernmost medieval empire
5- "Ottoman Empire" includes its predecessors, the Seljuk Empire and the Sultanate of Rum
6- it was decided to consider "Norse" as a DLC civ instead of "Kingdom of Denmark" for wider representation
7- "Byzantines" could also be called the "Byzantine Empire" or the "Roman Empire"
8- Portugal added in this version of the poll, as part of "Adventurers on Sea and Desert" with Mali (new)
9- Korea is now called by it's historical name, "Goryeo", while Japan is named generic "Japanese" as it wasn't a unified state most of the time
Latest Poll and Ranking snapshot from July 29! We've had 96 voters, 353 votes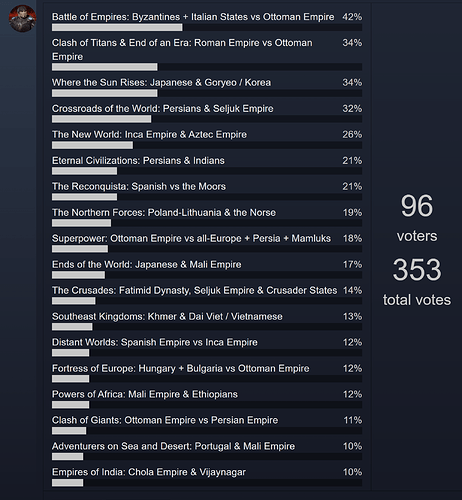 1. Battle of Empires: Byzantine Empire + Italians vs Turks / Ottoman Empire

2. Clash of Titans and End of an Era: Roman Empire vs Turks / Ottoman Empire
3. Where the Sun Rises: Japanese & Kingdom of Goryeo (Korea)
4. Crossroads of the World: Persians & Turks / Seljuk Empire

5. The New World: Inca Empire & Aztecs

6. Eternal Civilizations: Persians & Indians

7. The Reconquista: Spanish vs Caliphate of Cordoba
8. The Northern Forces: Poland-Lithuania & the Norse

9. Superpower (Armageddon): Ottoman Empire vs All-Europe+Persia+Mamluks

10. Ends of the World: Japanese & Empire of Mali

11. The Crusades: Byzantines vs Turks / Seljuks vs Crusaders vs Caliphate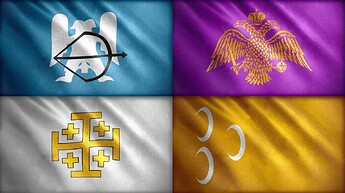 12. Southeast Kingdoms: Khmer Empire & Dai Viet / Vietnamese