GAME INFORMATION
GAME BUILD

#:

51737
**GAME PLATFORM:**Microsoft Store
OPERATING SYSTEM: Windows 10
ISSUE EXPERIENCED
PROBLEME DE CONNEXION AVEC PROFIL XBOX
Des milliers de parties avant sans problèmes. N'est pas apparu lors de la dernière mise à jour.
2 messages apparaissent, confere les 2 pieces jointes.
ralentissement du jeu.
le jeu marche bien en stand alone, pas de message
en jeu en ligne avec d'autres joueur, je les ai immanquablement.
jeu entièrement réinstallé, même constat.
PC entièrement nettoyé (fichiers temporaires) avec 100 Go de libre sur disque dur, même constat.
Aucun fichiers corrompus.
taille des deux fichiers cités (cf piece jointe) : 2 et 6 Ko sur le disque dur.
FREQUENCY OF ISSUE
100% of the time / matches I play (ALWAYS)
REPRODUCTION STEPS
lancer le jeu en profil xbox (plus de 5000 parties au compteur sur ce profil)
EXPECTED RESULT
jouer normalement
IMAGE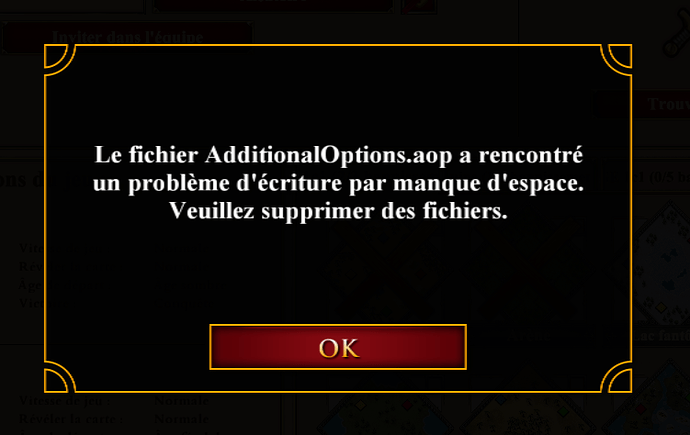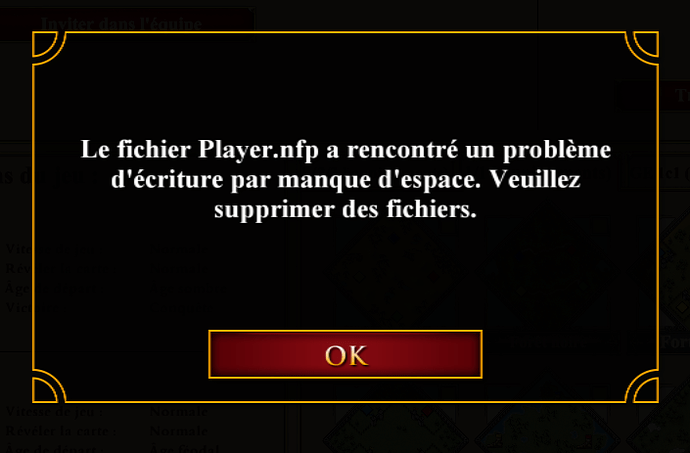 GAME FILES (SAVE / RECORDING)
MP Replay v101.101.51737.0 @2021.08.14 234058 (1).aoe2record (2.8 MB)
Ici le message apparait une fois en tout début de match, juste avant que le forum n'apparaisse… La partie s'est bien déroulée, mais ce message est bloquant.
Etait apparu plusieurs fois lors de la préparation de la partie en 4vs4.