GAME INFORMATION

These details are CRITICAL; DO NOT skip them or your issue may not be reviewed.
GAME BUILD

#:

PUP
GAME PLATFORM: Steam / Microsoft Store
OPERATING SYSTEM: Windows 10 / Windows 8 / Windows 7 / Mac / Linux
ISSUE EXPERIENCED

DESCRIBE THE ISSUE IN DETAIL (below). LIMIT TO ONE BUG PER THREAD.
Bersagliere had a x0.5 multi against cav to balance out its 5 speed but the PUP has increased it to 0.6 like all other cav meaning it increased instead of decreasing like for other light infantry
Might want to reduce this back down to 0.5 ( though will have to also adjust light cav multiplier )
FREQUENCY OF ISSUE

How often does the issue occur? CHOSE ONE; DELETE THE REST!
100% of the time / matches I play (ALWAYS)
IMAGE

ALWAYS attach a PICTURE (.jpg, .png, .gif) or VIDEO (.mp4, YouTube link) that highlights the problem.
PUP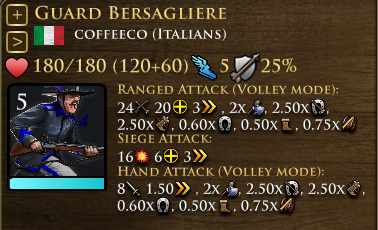 Current patch