How do I update my Insider preferences?
In order to review and update your Age of Empires Insider profile preferences, such as your preferred email, connected Steam account, and your DxDiag.xml, check out the quick guide below:
Accessing the Profile Page
Login to www.ageofempires.com with your Microsoft Account (MSA)
In the top left, hover over your profile picture and select Profile from the dropdown menu.
Alternatively, you can also login to your profile page directly at www.ageofempires.com/profile
You should now see a screen that looks like the below where you can review and update your Age Insider profile preferences: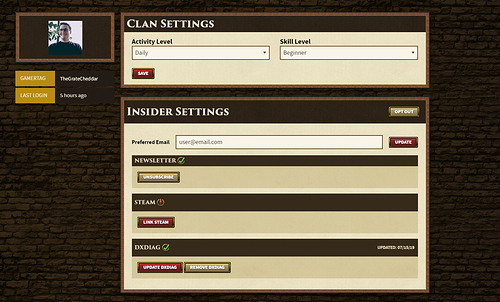 What are the Insider Settings?
Preferred Email - This is the email address we will reach out to you with news, updates, beta invites, and more. Make sure its set to an email you check regularly!

Newsletter - This section lets you subscribe or unsubscribe from the Age of Empires Insider newsletter, which includes exclusive Insider information on the franchise.

Steam - Link or unlink your Steam account to your Age of Empires Insider profile here.
You must have a Steam account linked to be eligible for the Age II: DE closed beta!

DxDiag - Upload or remove your DxDiag.xml file, a file that is important to helping us troubleshoot bugs you encounter and understand what kind of machine you're using to play our games.

Opt Out - Click this button in the top right if you wish to completely opt out of the Age of Empires Insider program.
Questions about accessing or updating the Age of Empires Insider profile preferences? Email us at AoEInsiderSupport@microsoft.com and we'll get back to you in a timely manner!