I'm just going to preface this by saying I'm incredibly angry and frustrated by losing hours of work, and either having to give up my scenario, or fix the whole thing over several more hours.



GAME INFORMATION
These details are CRITICAL; DO NOT skip them or your issue may not be reviewed.
GAME BUILD

#:

101.101.56005.0 7694700
GAME PLATFORM: Steam
OPERATING SYSTEM: Windows 10
ISSUE EXPERIENCED
DESCRIBE THE ISSUE IN DETAIL (below). LIMIT TO ONE BUG PER THREAD.
I have a scenario. It's pretty good. I've been working on it for over two weeks, with 2-3 hours of work every day. Today, suddenly when I open it up… Stuff broke. Literally all of the task object triggers either reset totally, or swapped out their values, along with a lot of the other triggers. This is incredibly frustrating, and could cause me hours of extra work as I try and fix this. I'm really really annoyed right now. I have 140 triggers, and now I have to manually check them all and fix this. I've also fixed some stuff, saved, reloaded, and it's corrupted again.
FREQUENCY OF ISSUE
How often does the issue occur? CHOSE ONE; DELETE THE REST!
I don't know, this is the first time I've ever seen it, and I hope to never see it again.
REPRODUCTION STEPS
List CLEAR and DETAILED STEPS we can take to reproduce the issue ourselves… Be descriptive!
Here's the steps to reproduce the issue:
I don't know, maybe create a scenario.
Build a large and detailed map, with several hundred triggers.
Use task object triggers
Save and come back the next day.
Watch all your hard work lie in ruins and need to be repaired.
EXPECTED RESULT
What was SUPPOSED to happen if the bug you encountered were not present?
I expect the game to not randomly delete hours of hard work.
IMAGE
ALWAYS attach a PICTURE (.jpg, .png, .gif) or VIDEO (.mp4, YouTube link) that highlights the problem.
This is just one example. I have a closeup of the task object here: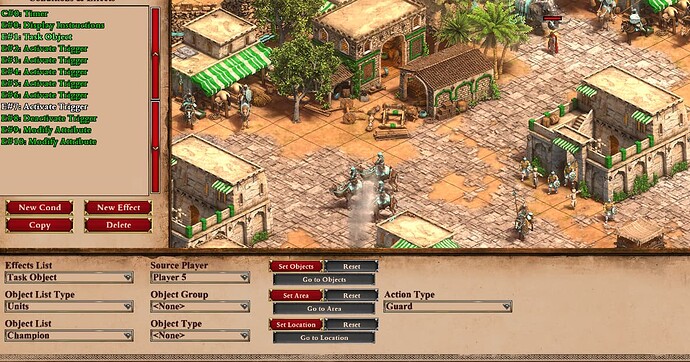 In this example, you can see the task object has been blanked. The location was meant to be the red character visible on the screen, and this is just one of many instances of this.
GAME FILES (SAVE / RECORDING)
Attach a SAVE GAME (.aoe2spgame) or GAME RECORDING (.aoe2record) of the match where you encountered the issue. Link it below if using an external file service.