Overview: In Age of Empires IV - Season Four Update 6.0.878 there was a fix for: "When you are eliminated from a match, remaining units will stop attacking previous targets, villagers will stop gathering, and any other unit commands will also cease."
Issue: I have specifically ran into a bug where enemy units DO NOT stop attacking after the opponent has surrendered. Specifically, a Mongol player's Mangudai. Please see screenshots below (I apologize in advance for the graphics my PC is not great):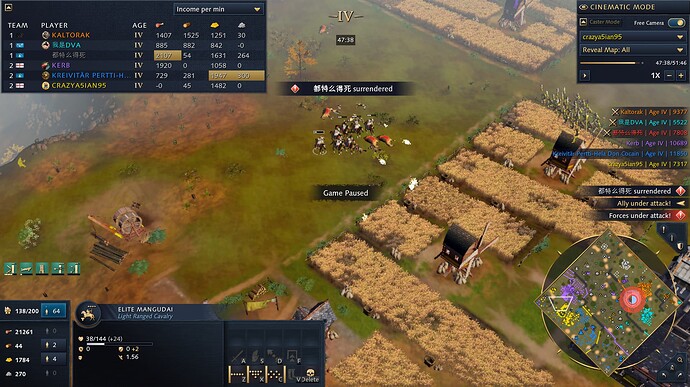 Reproduction steps: I hate to say I haven't tried to reproduce the issue yet… For context for the images; the enemy Mangudai were I believe left idle and were auto-targeting my farms. I don't believe it was a "right click attack" although it could be. Then the Mongol player surrendered and I believe the Mangudai were left idle shooting my farms. And of course continued to shoot.
Additional information: The map was "Hill and Dale" 3 v 3 ranked. This event occurred in the late game (47:30~ approx. see time stamps in screenshots). No major event may have caused this in game, although obviously the player surrendering caused it. How do I find out if they were match host? Also, you can see my cue in the screenshots; I don't think that caused it, also there wasn't a huge battle going on.
Also, I don't believe that the specs of my PC would be helpful as this was an in-game bug so the issue would have to be with the game code.
Game Version Number: aoe age4 6.0.878.0
Thank you for the help!