GAME INFORMATION
These details are CRITICAL; DO NOT skip them or your issue may not be reviewed.
GAME BUILD

#:

101.101.44725.0 6115729
GAME PLATFORM: Steam
OPERATING SYSTEM: Windows 10
ISSUE EXPERIENCED
Getting ou of sync on replays.
FREQUENCY OF ISSUE
*How often does the issue occur?
Less than 25% of the time / matches I play (RARELY)
REPRODUCTION STEPS
List CLEAR and DETAILED STEPS we can take to reproduce the issue ourselves… Be descriptive!
Here's the steps to reproduce the issue:
Played a Team Game, there was only 1 new civ on map
Finished the game as normal without issues (2 hours aprox. of game)
Tryed to watch the replay, getting ouf of sync at 29:45min
EXPECTED RESULT
I should be able to watch the whole game
IMAGE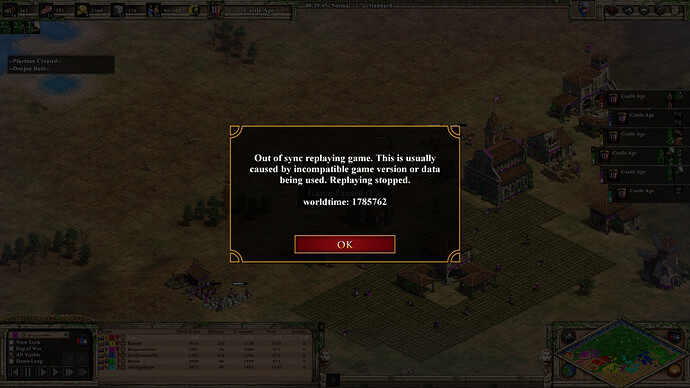 GAME FILES (SAVE / RECORDING)
MP Replay v101.101.44725.0 @2021.01.27 012711 (5).aoe2record (7.9 MB)