GAME INFORMATION

These details are CRITICAL; DO NOT skip them or your issue may not be reviewed.
**GAME BUILD

#:101

.102.18071.0
**GAME PLATFORM:Steam
**OPERATING SYSTEM:Windows 10
ISSUE EXPERIENCED

DESCRIBE THE ISSUE IN DETAIL (below). LIMIT TO ONE BUG PER THREAD.
Certain AI enemies/allies are incapable of playing elements of the game. I noticed something was off with my AI ally in an earlier game because it was way behind in civ performance than everyone else, but I assumed it had simply been 2v1'd. Unfortunately I never recorded that first game. In my second game, I discovered this is a repeating occurrence. After rewatching the replay, the most notable bug with the ai behavior is that some AI players—and I'm unsure if its a result of the civ or AI#—don't gather all resources available to them. Of the 5 AIs, 3 of them never got past Age1 because they didn't know how to hunt. Meanwhile, the remaining 2 of them play as you would normally expect managed to reach Age3. (See attachment)
FREQUENCY OF ISSUE

How often does the issue occur? CHOSE ONE; DELETE THE REST!
100% of the time / matches I play (ALWAYS) (I have only played 2 games so far, not in the mood to try another.)
REPRODUCTION STEPS

List CLEAR and DETAILED STEPS we can take to reproduce the issue ourselves… Be descriptive!
Here's the steps to reproduce the issue:
Skirmish mode
I will attach a screenshot of the match parameters for the game in case something there affects AI behavior
EXPECTED RESULT

What was SUPPOSED to happen if the bug you encountered were not present?
I have never played AoE1 so I have no clue if this behavior is normal but I would assume there should at least be some consistent performance in AI behavior for all players.
IMAGE

ALWAYS attach a PICTURE (.jpg, .png, .gif) or VIDEO (.mp4, YouTube link) that highlights the problem.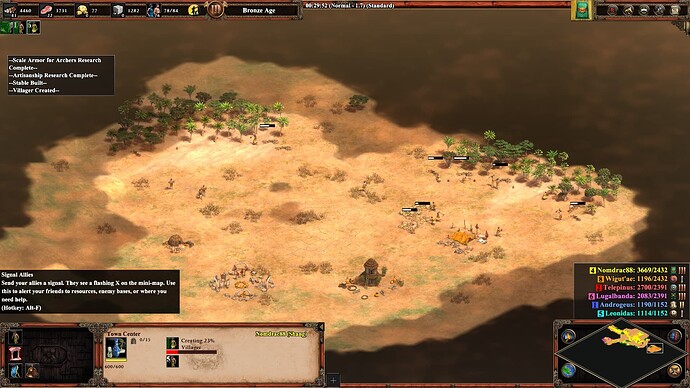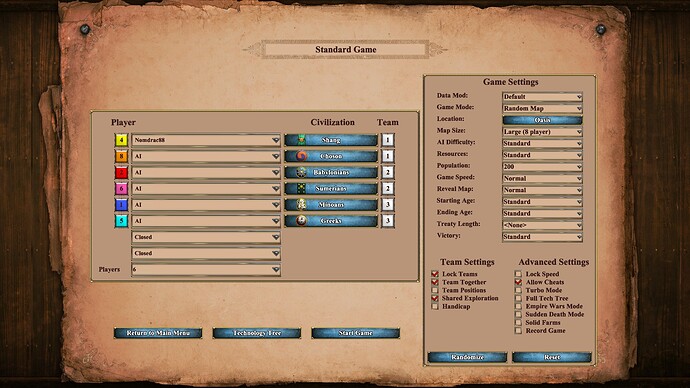 GAME FILES (SAVE / RECORDING)

Attach a SAVE GAME (.aoe2spgame) or GAME RECORDING (.aoe2record) of the match where you encountered the issue. Link it below if using an external file service.
rec.aoe2record (6.8 MB)