GAME INFORMATION
These details are CRITICAL; DO NOT skip them or your issue may not be reviewed.
GAME BUILD: 44834 (29th January patch)
GAME PLATFORM: Steam
OPERATING SYSTEM: Windows 10
ISSUE EXPERIENCED
DESCRIBE THE ISSUE IN DETAIL (below). LIMIT TO ONE BUG PER THREAD.
Russian localization of the new Burgundians' civilization description is incredibly bad. I think Google Translate would've done the job better.
FREQUENCY OF ISSUE
How often does the issue occur? CHOSE ONE; DELETE THE REST!
100% of the time / matches I play (ALWAYS)
REPRODUCTION STEPS
List CLEAR and DETAILED STEPS we can take to reproduce the issue ourselves… Be descriptive!
Here's the steps to reproduce the issue:
Boot the game.
Enter tech tree. (With russian language enabled)
Choose The Burgundians and enjoy the madness.
EXPECTED RESULT
What was SUPPOSED to happen if the bug you encountered were not present?
First bonus reads: "Economic updates, which are available one age earlier"(translated to english).
Should be:"Экономические улучшения доступны на одну эпоху ранее"(in russian)
Second reads: "Stable(as in stability) technologies cost(noun) -50%"
Should be:"Технологии в конюшне стоят на 50% меньше"
Third bonus reads: "Cavalier update available(plural) in castle Age
Should be: "Рыцари доступны в Замковой Эпохе"
Fourth reads: "Gunpowder(noun) units25% attack".
Should be:"Атака пороховых юнитов выше на 25%"
Unique unit isn't translated. I'd propose: "Кустильер"
Unique techs are also wrong:
First one is equvalent to:
Burgundies Vineyards - Change(noun) all edibles into gold; Farmers slowly generate gold in addition to food.
Should be:
Бургундские виноградники - Превращает все продовольствие в золото с отношением 2:1; Фермеры медленно генерируют золото вдобавок к продовольствию.
Second one:
flemish revolt(non-capitalized)(although on paper this looks alright, russians understand it as"OF flemish revolution) - Update of all existing villagers flemish militia; create flemish militia(non-plural) in town centres.
Should be:
Фламандская Революция - Превращает всех поселенцев во фламандских ополченцев; позволяет тренировать фламандских ополченцев в ратуше.
Team bonus is also wrong:
Relics generate(infinitive) both edibles and gold.
Should be:
Реликвии генерируют как золото, так и продовольствие.
IMAGE
ALWAYS attach a PICTURE (.jpg, .png, .gif) or VIDEO (.mp4, YouTube link) that highlights the problem.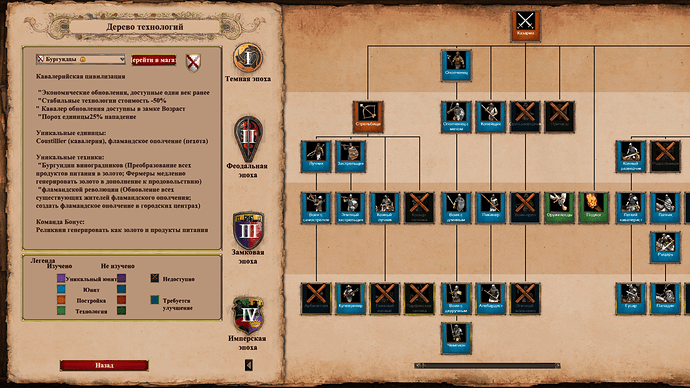 GAME FILES (SAVE / RECORDING)
Attach a SAVE GAME (.aoe2spgame) or GAME RECORDING (.aoe2record) of the match where you encountered the issue. Link it below if using an external file service.