GAME INFORMATION
GAME BUILD

#:

101.101.44834.0 6148570
GAME PLATFORM: Steam
OPERATING SYSTEM: Windows 10
ISSUE EXPERIENCED
The Change Technology Cost Trigger in the Scenario Editor changes the cost of the specified technology for ALL the players instead of just the source player.
FREQUENCY OF ISSUE
100% of the time / matches I play (ALWAYS)
REPRODUCTION STEPS
Here's the steps to reproduce the issue:
Create a new scenario in the editor.
Add a new trigger
Add a new effect and set it up as follows:
Effects_List: Change Technology Cost
Source_Player: 1
Technologies: Loom
Food:  50
Wood:  -1
Gold:  -1
Stone: -1

Place down a Town Centre for Players 1 and 2
Test the scenario
Check the cost of Loom for Player 1. It should be 50 Food
Now switch Point of Views to Player 2 (the default hotkey to do this is Ctrl+Shift+F2)
Check the cost of Loom for Player 2. It is also 50 Food while it should actually be 50 Gold
EXPECTED RESULT
This trigger should change the cost of the technology Loom for only Player 1
IMAGE
Triggers: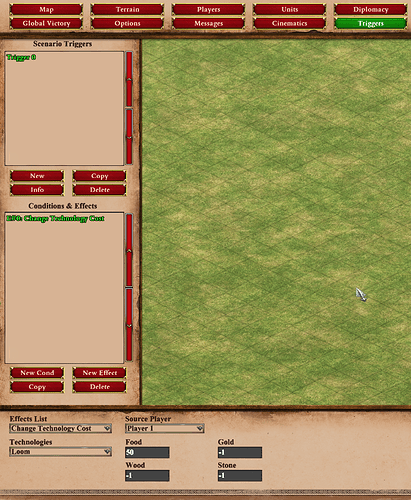 Ingame Effects:


GAME FILES (SAVE / RECORDING)
Uploading scenario files is not allowed.