If you use the infinite battleship cards for other civs it's not a unique ship right? You need to send the card that gives them an ability first I think which brit doesn't have.
correct, just for brits the infinite and unique card are 1 and the same
Let me tell ya, I'm one happy camper to see troops wearing pickelhaube in Aoe3. This update has added so much flavour to the game, I love it.
Aztec units have new skins for the Legendary upgrade. Does anybody have a screenshot of them?
Age II

Age III

Age IV

Age V

Very nice screenshots. It's a shame the Skull Knights don''t get skins for early ages, though.
Also, I'm not sure I've seen design of the Champion/Legendary Otontin Slinger's shield. Anyone has an idea on where that eagle icon might have been inspired from?
What unit is the guy in the red cape in the original post pic? Kon-El, Superman's brother? A doppelsoldner?
Si, es un doppelsöldner, pero me parece que obtiene un águila en la capa por la tecnología de Zweihänder de la iglesia
SI, obtiene un águila en la capa, pero creo que Tambien obtiene algún que otro pequeño detalle extra en el uniforme, o al menos eso parece cuando investigas esa tecnología.
Así se ve el Doppelsoldner después de desarrollar Zweihänder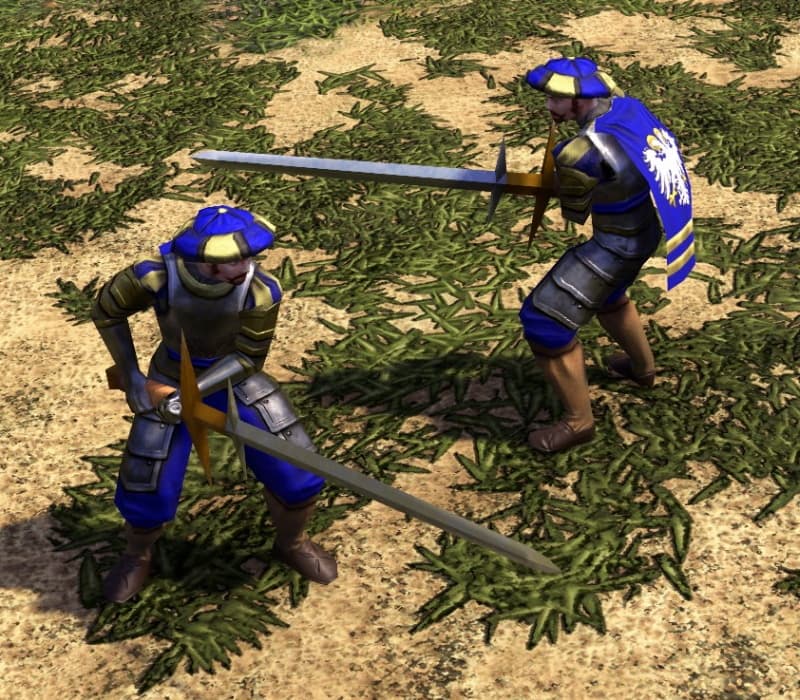 La Reichsadler en la capa, y unos detalles en dorado para la capa, el sombrero y la zona de los antebrazos
Now that both the Portuguese Dragoon and Musketeer receive the proper brown jacket

I wish that the veteran and guard skin of Cassador to get swapped too, let them be brown
This may have been an old topic, but the Russian Cavalry Archers now also equip the namesake weapons after receiving the Sovnya card!
But I don't have screenshots right now. sorry😝