GAME INFORMATION
These details are CRITICAL; DO NOT skip them or your issue may not be reviewed.
**GAME BUILD 101.101.51737.0 7126076
GAME PLATFORM: Steam
OPERATING SYSTEM: Windows 10 (Version 10.0.19042.1165)
Level Date and Time Source Event ID Task Category
Error 28-Aug-21 6:46:15 Application Error 1000 (100) "Faulting application name: AoE2DE_s.exe, version: 101.101.51737.0, time stamp: 0x61082f65
Faulting module name: ntdll.dll, version: 10.0.19041.1110, time stamp: 0xe7a22463
Exception code: 0xc0000374
Fault offset: 0x00000000000ff259
Faulting process id: 0x1eac
Faulting application start time: 0x01d79bbd4380d394
Faulting application path: C:\Program Files (x86)\Steam\steamapps\common\AoE2DE\AoE2DE_s.exe
Faulting module path: C:\Windows\SYSTEM32\ntdll.dll
Report Id: 12ec012e-74ba-4d21-87f7-1c330243af1b
Faulting package full name:
Faulting package-relative application ID: "
Operating System
Windows 10 Pro 64-bit
CPU
Intel Core i5 10400 @ 2.90GHz 28 °C
Comet Lake 14nm Technology
RAM
16.0GB Dual-Channel Unknown @ 1064MHz (15-15-15-36) - its 2 x 8Gb Crucial
Motherboard
Micro-Star International Co. Ltd. B460M-A PRO (MS-7C88) (U3E1)
Graphics
LG FULL HD (1920x1080@75Hz)
4095MB NVIDIA GeForce GTX 1050 Ti (Gigabyte) 46 °C - Gigabyte GTX 1050 Ti D5 4GB
Storage
465GB Western Digital WDC WDS500G2B0C-00PXH0 (Unknown (SSD)) - WD SN550
Optical Drives
No optical disk drives detected
Audio
High Definition Audio Device
ISSUE EXPERIENCED
DESCRIBE THE ISSUE IN DETAIL (below). LIMIT TO ONE BUG PER THREAD.
Game frequently crashes when playing skirmish games. I uploaded an custom AI, custom map, xml system spec file generated with specy (on google drive) and attached a savegame.
FREQUENCY OF ISSUE
How often does the issue occur? CHOSE ONE; DELETE THE REST!
25% of the time / matches I play (SOMETIMES)
REPRODUCTION STEPS
List CLEAR and DETAILED STEPS we can take to reproduce the issue ourselves… Be descriptive!
Map: $Middle-East
AI: Savage_51737 @Moderate difficulty - x8
Settings: Standard 200 pop random game, teams together, teams locked, fixed positions
Played on fast (2.0 speed)
I attached a google drive link to the AI that MAY cause the issues and the map (i made them both myself)
https://drive.google.com/drive/folders/1lAXU4DB7aJ_GTycz1FhCwLF5mto1ZT-u?usp=sharing
The savegame crashes a few seconds after i starts. Starts at 36:14 and imediately crashes.
EXPECTED RESULT
What was SUPPOSED to happen if the bug you encountered were not present?
Play the game without problems until one team wins.
IMAGE
ALWAYS attach a PICTURE (.jpg, .png, .gif) or VIDEO (.mp4, YouTube link) that highlights the problem.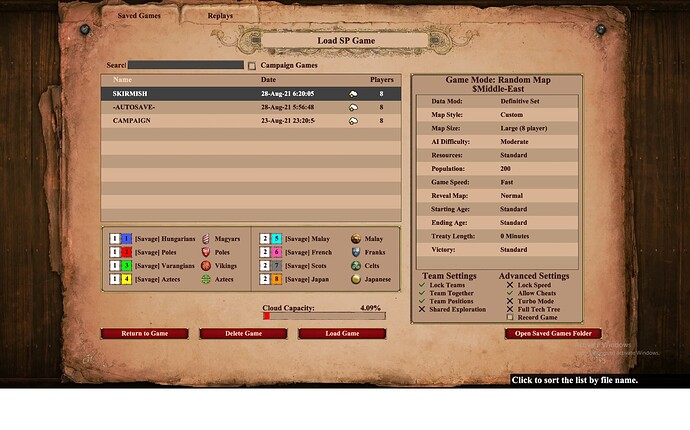 GAME FILES (SAVE / RECORDING)
Attach a SAVE GAME (.aoe2spgame) or GAME RECORDING (.aoe2record) of the match where you encountered the issue. Link it below if using an external file service.
SKIRMISH.aoe2spgame (1.5 MB)