GAME INFORMATION
These details are CRITICAL; DO NOT skip them or your issue may not be reviewed.
GAME BUILD

#:

######
GAME PLATFORM: Steam / Microsoft Store
OPERATING SYSTEM: Windows 10
ISSUE EXPERIENCED
DESCRIBE THE ISSUE IN DETAIL (below). LIMIT TO ONE BUG PER THREAD.
A couple of units are not affected by the Jile dagger tech from the Somali TP, including:
Chinese Skirms
Chinese CKN
Consulate Roger's Rangers ( the normal Roger's Rangers is affected)
Consulate Needle gunner
I tried to check as many other units as I could and these were the only ones that weren't affected
From the way the tech works, I suspect these units are missing the new Rifle Infantry (for the 3 skirms) and the foot archer tag ( for the CKN)
FREQUENCY OF ISSUE
How often does the issue occur? CHOSE ONE; DELETE THE REST!
100% of the time / matches I play (ALWAYS)
REPRODUCTION STEPS
List CLEAR and DETAILED STEPS we can take to reproduce the issue ourselves… Be descriptive!
Here's the steps to reproduce the issue:
get Jile Daggers
train these units
IMAGE
ALWAYS attach a PICTURE (.jpg, .png, .gif) or VIDEO (.mp4, YouTube link) that highlights the problem.
Units not affected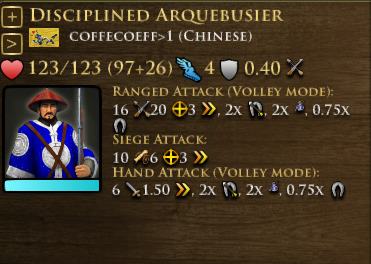 Units that are affected