My main keyboard language is Spanish, and even though the Operating System is in English, Windows Store apps show up in Spanish, which is weird but I guess I digress. I just wanted to vent that one out, hehe.
Anyway, in Spanish, Shift = Mayuscula. Such a big word. Look what happens in the game: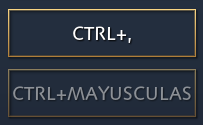 So it is Ctrl+Shift + …?? What? Cannot read it. IN AoE2, if I remember correctly, the text scrolls.