I feel like most of the community are happy with the next changes and I feel like they go in the right direction, however there are 2 things that worry me
1 - What will happen to the effectiveness of springald vs boats now that their base damage is lower, Will we get a bonus vs Ships?
The 1st question is because I have experienced a hard time taking water back on hybrid maps like Mongolian heights and which also have small choke points where your opponent can use demo ships and if your opponent already controls water and you do have a strong land economy, but lack the tools to deal vs their water presence, I think this should be looked at.
2 - What will happen to the springald emplacement on towers & keeps, Will it get the same treat of 30 base damage and 90 bonus damage? Or will it remain as 60? If the base damage will remain as 60 then probably 60 + 60 vs siege?
Springald emplacement for towers & keeps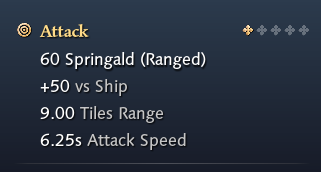 Currently Springalds on towers do 60 base damage + 50 vs ships and I feel like normal springalds do need bonus vs ships as they are our tool on dealing vs ships when your opponent is having water presence