The AI is too Idle in Skirmish Games.
This issue is true since day one, and I already reported it in the past.
All the AI's in this game were Hard AI's.
The computer AI is too idle (passive) staying in his base with massive armies and do not attack.
Normally, in the first 20 minutes of the game, not much is happening.
The AI attack with a small army after 10 minutes or so and doesn't do much for the next 10 mintes.
Even after 20 minutes the Ai will not use its full scale army and it will just sit idle in its base for long periods.
The best way to prove that is with this chart showing the massive amount of unspent resources by the AI.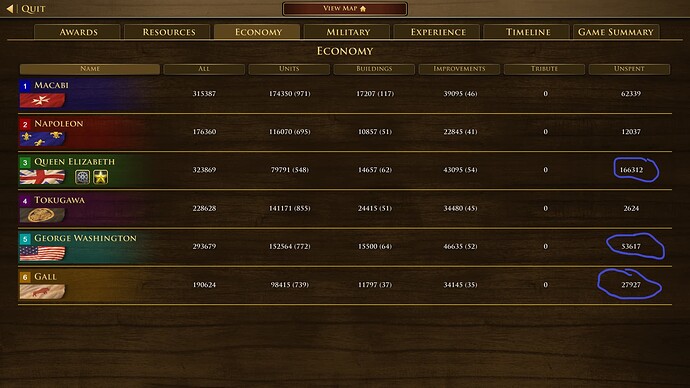 This chart shows that most AI's are at their population limit for most of the seconds half of the game.

The bottom line, the AI needs to be more active and attack more often.
There is no point of reaching the population limit, and accumulate resources that will never be spent.
It would be best if the AI is modified to capture the middle of the map and build there a forward base.
That will allow for none stop battles for the control of the middle of the map.