GAME INFORMATION

These details are CRITICAL; DO NOT skip them or your issue may not be reviewed.
GAME BUILD

#:

帝国时代2决定版
GAME PLATFORM: Steam
OPERATING SYSTEM: Windows 10
ISSUE EXPERIENCED

DESCRIBE THE ISSUE IN DETAIL (below). LIMIT TO ONE BUG PER THREAD.
帝国时代2决定版有一个成就——挑战已接受: 在任意孙子兵法挑战中获得任意勋章。
我已经完成孙子所有训练并全部取得金牌,但依旧没有获得该成就,这是我最后一个成就了。(已获得 200 / 201(100%)项成就)
FREQUENCY OF ISSUE

How often does the issue occur? CHOSE ONE; DELETE THE REST!
100% of the time / matches I play (ALWAYS)
REPRODUCTION STEPS

List CLEAR and DETAILED STEPS we can take to reproduce the issue ourselves… Be descriptive!
Here's the steps to reproduce the issue:
打开帝国时代2决定版
选择孙子兵法战役
3.完成任意一局并获得任意奖牌
4.没有成就
EXPECTED RESULT

What was SUPPOSED to happen if the bug you encountered were not present?
IMAGE

ALWAYS attach a PICTURE (.jpg, .png, .gif) or VIDEO (.mp4, YouTube link) that highlights the problem.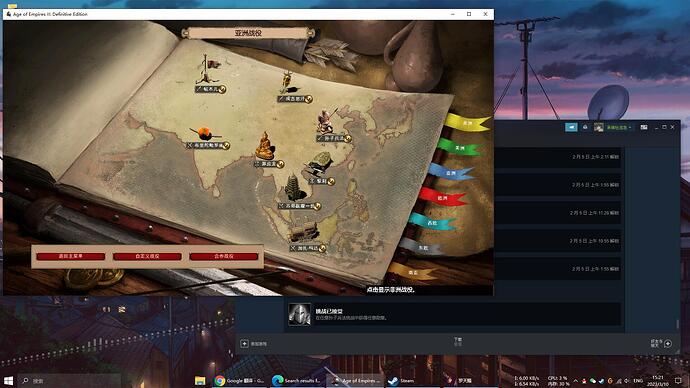 GAME FILES (SAVE / RECORDING)

Attach a SAVE GAME (.aoe2spgame) or GAME RECORDING (.aoe2record) of the match where you encountered the issue. Link it below if using an external file service.