GAME INFORMATION
GAME BUILD

#:

47820
GAME PLATFORM: Steam
OPERATING SYSTEM: Windows 10
ISSUE EXPERIENCED
Trade cogs bug with unbuild docks
When placing a new dock, the AI's trade cogs will park in the spot where the soon-to-be-build-dock is placed, denying the possibility of effectively building it (they're too stubborn to move)
FREQUENCY OF ISSUE
*How often does the issue occur? *
100% of the time / matches I play (ALWAYS)
It happened all the time, altough I only saw it while playing scenario 4 of Tomislav Campain (probably because I don't play single player, and there're not that many scenarios with AI's trade cogs
REPRODUCTION STEPS
List CLEAR and DETAILED STEPS we can take to reproduce the issue ourselves… Be descriptive!
Here's the steps to reproduce the issue:
place a dock fundation nearby passing trade cogs
watch how the trade cogs redirect immediately to the fundation
EXPECTED RESULT
What was SUPPOSED to happen if the bug you encountered were not present?
trade cogs will be trading from one existing dock to another
IMAGE
ALWAYS attach a PICTURE (.jpg, .png, .gif) or VIDEO (.mp4, YouTube link) that highlights the problem.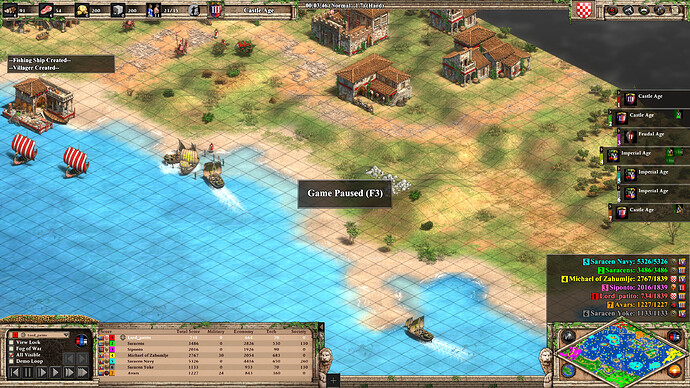 GAME FILES (SAVE / RECORDING)
Attach a SAVE GAME (.aoe2spgame) or GAME RECORDING (.aoe2record) of the match where you encountered the issue. Link it below if using an external file service.
replay bug croata.aoe2record (1.0 MB)