GAME INFORMATION
GAME BUILD

#:

101.101.46295.0 6421374
GAME PLATFORM: Steam
OPERATING SYSTEM: Windows 10
ISSUE EXPERIENCED
There is no dropdown menu next to Map Style. Map Style is set to Standard, and I cannot change it to something different, like Real World or Special.
This issue happens both in Single Player and when I am hosting a multiplayer lobby. It also happens in every Game Mode I select.
FREQUENCY OF ISSUE
100% of the time / matches I play (ALWAYS)
REPRODUCTION STEPS
Either click Single Player → Skirmish or click Multiplayer → Host Game.
Try to change the map style from Standard to anything else.
Notice that you can't do that, since there is no dropdown menu.
EXPECTED RESULT
There should have been a dropdown menu, allowing me to select a different Map Style.
IMAGE
Note the lack of an upside down triangle in the rectangle with the text 'Standard', indicating that there is no dropdown menu: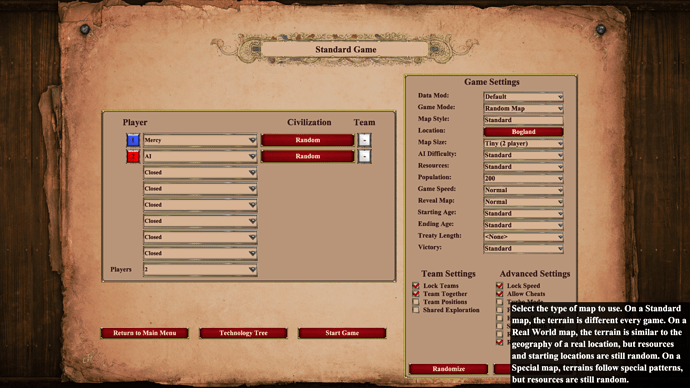 GAME FILES (SAVE / RECORDING)
n/a