GAME INFORMATION
These details are CRITICAL; DO NOT skip them or your issue may not be reviewed.
GAME BUILD

#:

100.12.29715.0
GAME PLATFORM: Steam
OPERATING SYSTEM: Windows 10
ISSUE EXPERIENCED
DESCRIBE THE ISSUE IN DETAIL (below). LIMIT TO ONE BUG PER THREAD.
There is a delay after launching the game before the United States add-on is loaded or recognised. Normally, when you launch the game, the menu will display the Home City you had it set to when you last exited the game. However, if you last used the US Home City, it will launch with a different one.
If you go into the Home City menu immediately after launch, the US Home City is not available. After a short time, if you exit the menu and go back into it, it's then available.
I unlocked the civ by completing the challenge rather than buying the DLC. I don't know if that makes a difference.
FREQUENCY OF ISSUE
How often does the issue occur? CHOSE ONE; DELETE THE REST!
100% of the time / matches I play (ALWAYS)
REPRODUCTION STEPS
List CLEAR and DETAILED STEPS we can take to reproduce the issue ourselves… Be descriptive!
Here's the steps to reproduce the issue:
Unlock the US civ.
Set the menu Home City to the US.
Exit the game.
Launch the game.
Quickly enter the Home City menu.
EXPECTED RESULT
What was SUPPOSED to happen if the bug you encountered were not present?
The US Home City should be available instantly as with all the other Home Cities, and should be able to appear behind the main menu when the game launches.
IMAGE
ALWAYS attach a PICTURE (.jpg, .png, .gif) or VIDEO (.mp4, YouTube link) that highlights the problem.
Just after the game launched: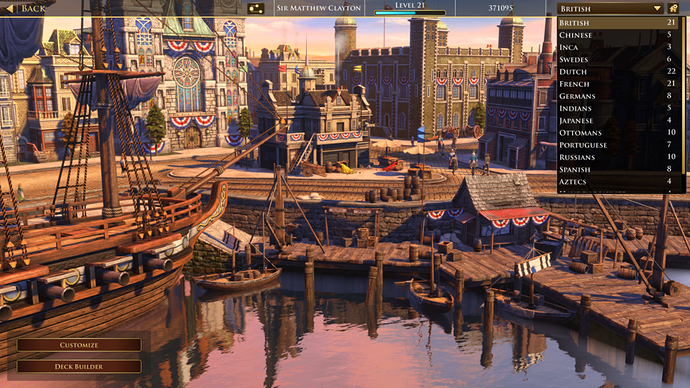 After closing and re-opening the Home City menu:

Side note: The random order of the civs in the dropdown is very annoying.